Art is one of many thing that can bring people together, art is full of many different mediums and form that there is no direct limit when it come to art, and there is no better way to show if off than an exhibition for many people to see.
The Boone Family Art Gallery held another art exhibition this past Sept. 22 in the Center of Arts where PCC faculty and artists came together to display their artwork in the Applesauce exhibition.
The art gallery reception itself was very vibrant, exciting, full of life and curiosity. The way the art was spread out through the room was very chique. But who doesn't get excited over unique hand-crafted pieces, especially when the hard work and detail the artist put into it can be seen.
From nostalgic images to ironic pieces, the Boone Family Art Gallery showcased all kinds of styles that evoked fond memories and thrilled sensations. Images of the pink erasers we used in elementary school were hung on the walls; And if you looked at the mountain of spaghetti for just a good amount of time, hunger can possibly strike. Some irony even ran through the exhibition; a piece titled 'Nostalgia' which has a keen resemblance to Kim Jong-un as the man in the image creates curiosity as to why the piece is titled 'Nostalgia'.
Throughout the exhibition there is a little taste of each type of art medium. There was the traditional painting, black and white sketches, modern photography, digital designs, and sculptures.
The exhibition was full of creative and exotic piece names that make a person want to look at them for a long time and unravel the meaning, connection, and thought process of the artist.
The pieces ran from simple title names like "Rose 4" or "Spaghetti Mountain" to something as attention grabbing as "The Brain" or "Untitled" or "Biorerrie."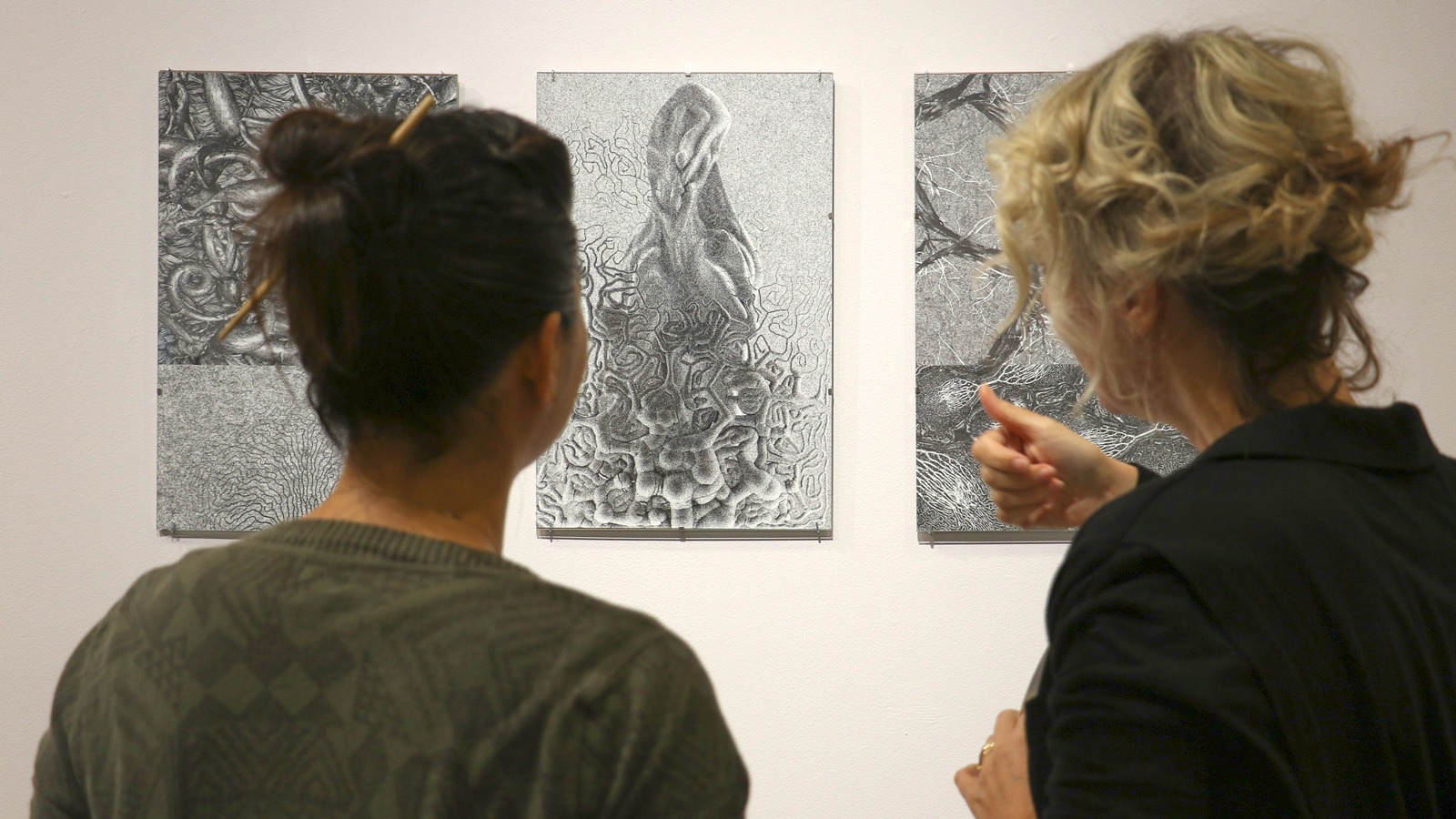 While walking through the exhibition there are many feelings and themes that one can connect with. There's a sense of relaxation, exoticness, a tad bit of nostalgia that can be felt throughout the exhibition. The black and white pieces brought feelings of relaxation with their vintage feel. The colorful paintings and images brought the feeling of exoticness with the use of vibrant colors in the pieces. Nostalgia was felt throughout the exhibition with help from the big images of pink erasers, people sitting in a movie theater, and a painting of a little duckling like the ones you'd feed at the park as a child.
"It's a mixture of hand sketches and digital sketches," said art faculty member Silvia Rigon, as she described her art piece 'Biorerrie' to another faculty member.
The exhibition was full of art and people who were there to admire it. It was full of students and faculty, and artists who were there to showcase their own work while supporting other artists as well. As people observed the art, some artists who were at the show explained their pieces and their thought process.
The exhibition overall was great and and the art was really well-enjoyed. The Apple Sauce exhibition runs from now until Oct. 21 in the Boone Family Art Gallery (CA103). Gallery hours are Tuesday 11 a.m. to 7 p.m., Wednesday 11 a.m. to 5 p.m. and Friday 12 p.m. to 3 p.m.