Walking into the Boone Family Art Gallery at the Center for the Arts, you are bombarded by the vibrant and delightful "Spots" exhibition, featuring the work of acclaimed abstract artist Bob Zoell.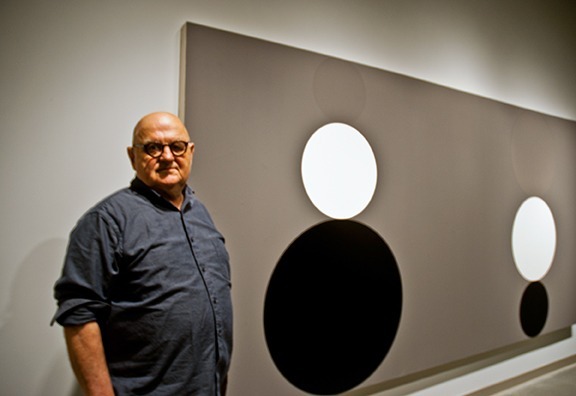 The "spot" paintings were produced in the late 1980s and early 1990s and are "dazzling meticulous formal variations on the motif of the spot," according to Brian Tucker, director of the art galleries at PCC.
A reception was held for Zoell in the gallery on Nov. 6 and the exhibition will be on display through Dec. 14.
"It's feels almost like walking into a children's book," said Jaime Rowe, undecided.
Rowe's favorite thing about "Spots" is that at a glance everything looks clean and simple. "There's so much going on in them if you look closer. This one looks like a robot's head but from far away it's just a bunch of little shapes and cool colors. I love it," Rowe said.
Originally from Regina, Saskatchewan, Canada, Zoell is now a resident of Pasadena and is renowned in the realms of illustration, painting and public art.
The idea of having an exhibition that displays some of Zoell's prominent work began developing during Gary Panter's time as Artist-in-Residence at PCC. Panter invited Zoell to give a lecture that left the students, faculty and staff of the Visual Arts and Media Studies Division excited by Zoell and his work.
"It's unusual to find someone who has operated at this high a level in so many artistic domains," Tucker said.
"He's a really interesting model of an artist who creates work in many categories and doesn't fit into just one. Though I don't know if that's obvious from just one body of work," he added.
"His work is really nice because it's very simple but it feels like every piece has a message," said Chelsea Sulker-Hall, fashion marketing, whose favorite piece was a cel-vinyl and enamel on canvas that was made in 1990.
"I like how the colors blend in with the background and you can't really see it," Sulker-Hall said.
Though Zoell has seven covers of The New Yorker magazine to his credit and has had his work featured in prestigious contemporary art museums around the world, PCC students and Angelenos are more exposed to his work than we know.
Zoell's whimsical ceramic tile mural that displays grinning faces made of punctuation marks and typographical design symbols has been prominently featured at the Wilshire/Vermont Los Angeles Metro Station since 2004. His playfully designed poster celebrating Griffith Park can also be seen on busses and trains throughout the city.
Zoell will be giving a walk through of "Spots" in the Boone Family Art Gallery at noon Friday.
---
Latest posts by Aubrey Quezada
(see all)