A zombie family from the 50s played the flutes as princesses, witches and wenches strummed the strings. Batman was on the trombone and a bear, a clown and fairies rounded out the horn section. They were just part of the PCC orchestra during the "Phantoms and Firebirds" concert on Sunday night at Sexson Auditorium.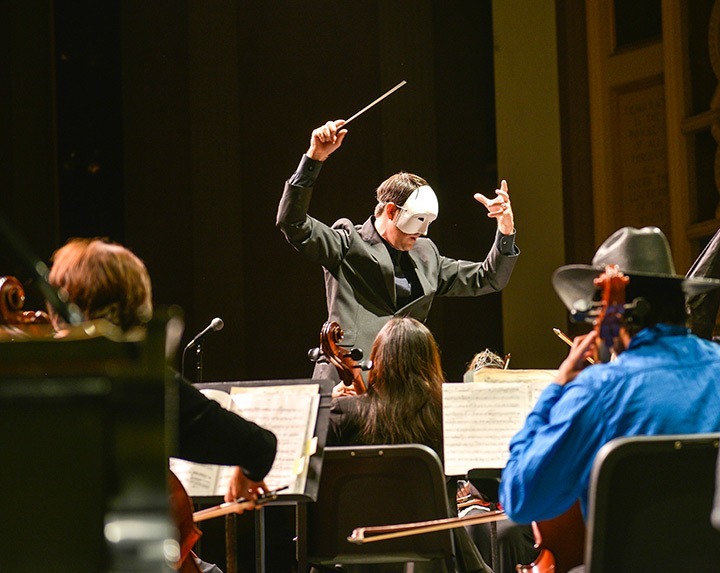 Providing treats and no tricks, the PCC's orchestra ensemble enchanted the audience with supernatural themed musical arrangements and scary Halloween costumes.
Orchestra Conductor Michael Powers built the program with compositions from different eras and different genres including theater, movies and great works from nineteenth and twentieth centuries.
The best performance of the night was Andrew Lloyd Webber's thrilling score of "The Phantom of the Opera."
The Phantom appeared when Powers put on the mask and shaped a performance that combined delicacy with sinister power conducting the musicians to spirit away the audience under the spell of the masterpiece.
Featured works in the program included "Battle of the Heroes" from "Star Wars Episode III: Revenge of the Sith" and "The Phantom of the Opera" and closed with a movement from Stravinsky's ballet score "The Firebird" called "Princesses' Round Dance."
"I would've preferred something stronger at the end," said bassoon player, Eddie Baez, in a shiny knight costume. "I think the Phantom piece should have been the last one."
The audience's vote for the best costume was contested between two violinists, one dressed as the queen of hearts ("Alice's Adventures in Wonderland," 1865) and the other as zombie stitch (Disney's "Lilo and Stitch," 2002).
Audience member Drew Potts, who was donning a pirate costume, said this was his sixth year attending the annual concert.
"I keep coming back…it's a good mix, some old and some new," he said.
Current and former PCC students such as Junie Hildebrandt on the viola and her husband Richard Moon on trombone make up the orchestra.
"This year we had a really excellent turnout of students and talent…a really fantastic atmosphere of community. Everyone who is here because they want to be [here]," said Powers.
The orchestra will collaborate with the choir to present the holiday concert in December, featuring Ludwig Van Beethoven's Choral Fantasy starring piano soloist professor Jaqueline Petitto.
Latest posts by Alumni Staff
(see all)