Laughter and nostalgia were felt among the audience as award winning Chicano poet Juan Herrera read selections of his poetry reading on March 26 in the Creveling Lounge.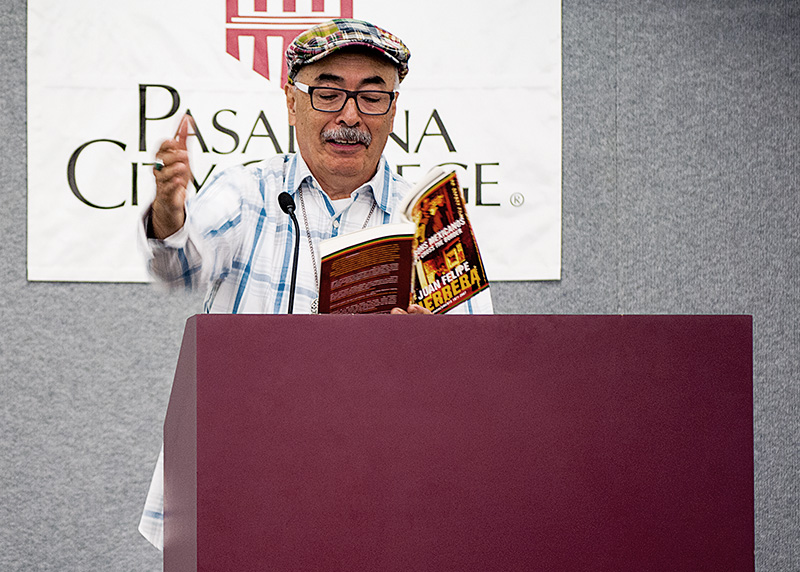 With the collaboration of Puente Program and the Latino Advisory Committee, students and faculty were given the chance to listen to poetry from Herrera himself.
Herrera enjoyed discussing with and hearing from students about bettering their lives and putting their lives into their writing and expressing themselves.
"[Students] are a whole new part of this big wave of Mexicanos and Latino culture in the United States. They're right in front of the wave and I remember when I was starting out and how different it was then, and I can see what they are now. And it's a beautiful thing to see."
President Mark Rocha, also a fan, introduced Herrera. "This evening is a special night for me, a privilege. Juan Felipe Herrera is my hero…Juan Felipe was like the godfather; he was the one whom we drew inspiration from," Rocha said.
Through the night students enjoyed the lively and humorous narration of Herrera.
Valarie Roque, communications, was looking forward to the event. "It's great that the members of the Latino committee are doing more things to get Latino authors and let students know that Latino poetry is literature," she said. "The fact that we have someone come from a Latino background is great. I loved it."
Students were inspired by the Herrera's poetry to know more about their family background. Gonzalo Martinez, communications, said he's looking forward to going back to his family to ask them questions about how it was for them.
"All I know is about me, me, and me but I don't know about my past. Herrera talked about going to Mexico, I really don't know about my past so I would really like to know more about my history", he says.
Afterwards, Herrera said the students also inspired him that night. "Every time I see young people, I'm really moved by their sincerity and how they are full of life," he said. "A new society, minds in the making. And something really beautiful is taking place; it's hard to put into words. I cannot be reduced to what the media says about Latinas, Latinos, Mexicanos and human beings."
Latest posts by Alumni Staff
(see all)