Student art never looked so good.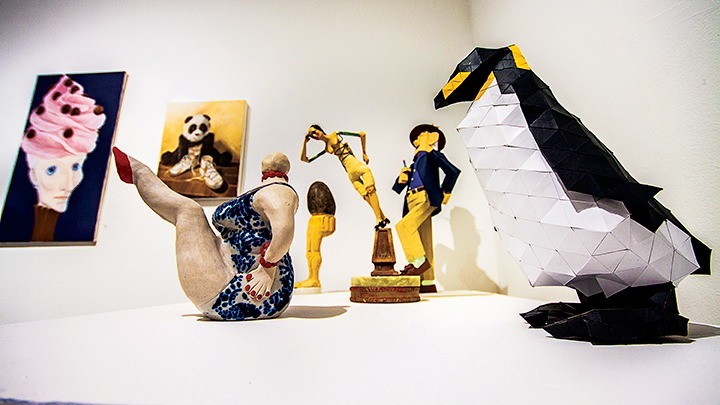 Doug Harvey, renown Los Angeles based artist and curator, was chosen as an impartial judge to select work to be displayed at the newly named Gallery on the Quad on Nov. 14.
Five lucky artists received cash prizes totaling $1,200 for their submissions.
Brian Tucker, art gallery director, said that getting Harvey as a juror was a delight.
"We get someone to come in with a fresh set of eyes not contaminated by a relationship with the artist," Tucker said.
Tucker also added that it's good to get someone in the curatorial business as well as an artist.
Harvey's expertise resulted in a well-balanced exhibit with an eclectic array of mediums and composition.
"I have this unusual dual consciousness about art," Harvey said. "I think fairly uniquely among critics. I can put myself in the artist's place."
Many of the artists selected by Harvey were humble about their achievement.
Among them was Sebastian Genato, art, who took winning an award as an affirmation that he is pursuing the right career.
"It feels great," Genato said. "Just like last year I didn't know what I was doing. I was undecided about my major and I guess winning an award just kind of confirms it, that I'm choosing the right path."
The inspiration for one piece, "Way Cheaper," came from a student who removed tattoos from his hand with sandpaper.
The artist, Nathan Minier, depicts a hand with the fingers cut off. Each one has a letter on it to spell "GUNZ."
"I had to remove it. But laser removal was taking to long so I sanded it off with sandpaper and so I drew this when I didn't have a lot of skin on my hand," Genato said.
Inspiration for other artists came from less cathartic places such as Tsvetelina Valkov's "Broken Silence."
"I was driving through the desert and was so amazed by the horizon, the clouds and the view," said Valkov. "I took a picture of it and thought about what I should do with it."
The small gallery manages to cram in about 60 different pieces of art that come together in the end.
"I have a really wide ranging eclectic taste in art," Harvey said. "All of the stuff here are thing I would be happy to in galleries all over the world."
Latest posts by Luis Rodriguez
(see all)