Hidden in plain sight on Colorado Blvd., nestled behind reaching trees, sits the Norton Simon Museum, quietly holding its 12,000 objects of art.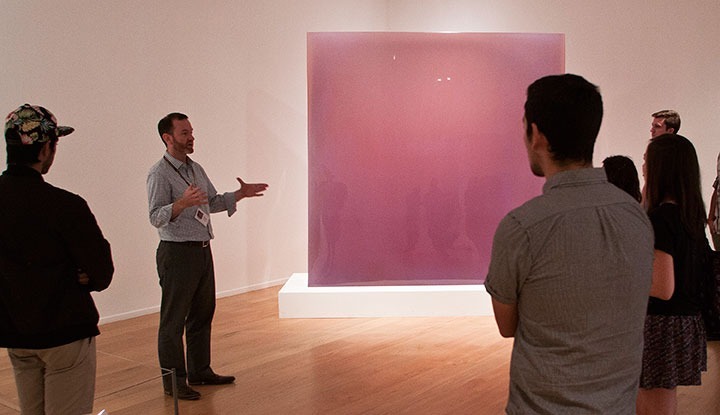 On Friday night Oct 18, the Norton Simon opened it's doors to college students, giving free tours, art posters on the exit and a panel discussion on the art of becoming an intern.
The Norton Simon is the beautiful museum that everyone seems to overlook. Both the Getty's, both the MOCA's, the LACMA and even the Huntington Gardens seem to get all the press.
While the Norton Simon quietly shows off Monet, Renoir, Degas, van Gogh, Cezanne and many more.
And it's even free for students with a current ID.
Along with the masters of impressionism, the museum houses deity carvings from India, 14th to 18th century European paintings, and modern art, which is always intriguing and confusing.
On the stage of the lecture hall, five employees and ex-employees of the Norton Simon each spent 10 minutes talking about ways to become an intern. "Spell check and dress professionally," came up repeatedly, but the point that struck home the most, is the overused phrase: "It's not what you know, but who you know."
Two of the members of the panel discussed how they got into museums work. Manny Guardado and Carol Togneri said that they simply went to museums and volunteered. Once inside the doors they worked for free, and got to know the people. Creating bonds and friendships and will last through job changes and time. Those relationships could be remembered the next time an internship or job comes up.
Because it is now the world of the internet, Guardado mentioned a necessary Yahoo! group for those interested in art and museums. When Guardado mentioned the group, all the other panelists nodded their heads.
The Yahoo group is "Los Angeles Culture Net." It's the place to talk about artists, curators and everything art in LA.
Prior to the panel discussion, the museum gave five different tours. The Modern Art and Beyond tour was given by Tom Norris, curatorial associate of the Norton Simon. The tour began upstairs, where the sculpture was more traditional, with a recognizable face or angle of view.
But downstairs the art became more abstract, with an aluminum floor to walk on, a foam covered wall, and a wall made from clear acrylic.
Norris described it very simply: the newer art, or the modern art, attempts to describe not things, but ideas. It was the artists learning to take the work off the pedestal and play with light, with form, with point of view and interaction.
At the end of the tour Norris said how he meets with students all the time to discuss art and museums. He said that the museum is available to students who want to learn more about art or the world of museums.
For more information email info@nortonsimon.org or call (626) 449-6840 x3500.
Latest posts by Benjamin Simpson
(see all)