A standard rhythm section of a keyboard, electric bass, and drums awaited the gospel choir's entrance onto the makeshift stage equipped with three microphone stands for each voice section—altos, tenors and sopranos. The Quad is no stranger to various performances, but open praise to the Lord? That's a new one.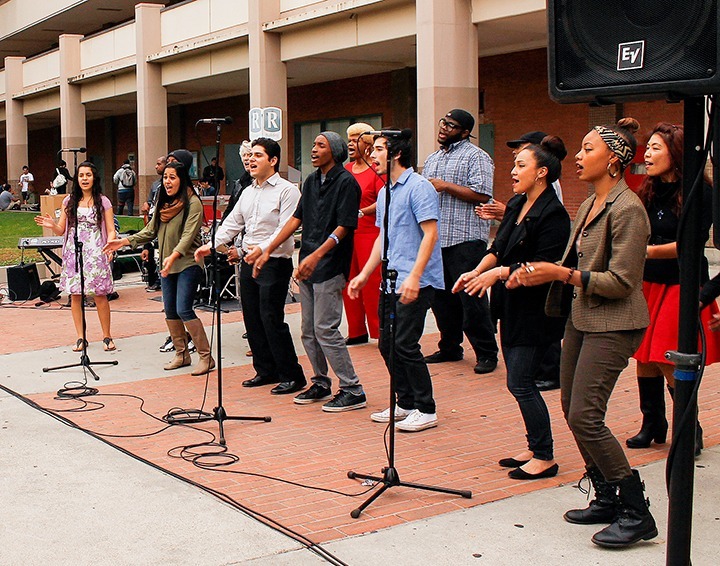 "[Gospel music] is awesome," director Betty Keller said. "Gospel is good news about Jesus Christ; there is no other way to say it."
The gospel choir performed five songs Tuesday to give audience members a taste of what is to come at their Saturday performance. Such selections included the uplifting "Anything is Possible," featuring student Ryan Spears as the soloist, belting out soulful riffs while highlighting his broad range and strong falsetto. The song also reiterates the inspirational message: you can conquer anything that you can dream.
Although these gospel singers did not exude the typical warmth and soulfulness of conventional gospel groups, they did emanate energy unlike other choral groups on campus as they swayed and stomped to the rhythm of their songs, clapping—for the most part—to steady beats.
The singers displayed varying degrees of animation and enthusiasm as some were engaged in their performance beaming bright smiles, while others seemed bored.
An interactive element was made prominent throughout the performance while Keller remained engaging and actively encouraged audience participation.
"Come on and put your hands together, let me hear some noise out here," Keller said. Unsatisfied by the unenthused bystanders, she would ask for more. "Is that all y'all got? Come on, make some noise!"
Student Leil Menor, accounting, was fascinated by the performance.
"It was different because they talked about Jesus," said Menor.
After performing "He Shall Reign," Keller asked each individual section to sing their respective chorus, and then asked audience members to sing along. Most bystanders, besides one, were too shy and did not participate.
"Audience participation, you never get that [from other groups]," said Menor with a light chuckle. "[We only] clapped in support."
Although minor flukes happened during the performance such as bad entrances, discrepancies in blend when specific voices stuck out, misplacement of lyrics and sloppy cut-offs, students in the Quad—whether they were sitting around and chatting with friends, walking to and from class, peering over the edge of the R building or actually standing in front of the performance—enjoyed the show.
The gospel choir concert is happening this Saturday, Nov. 16 at 8 p.m. in the Sexson Auditorium. Tickets for students, staff and seniors are $3; general admission is $5.
Latest posts by Emily Chang-Chien
(see all)