It's a good time, old sport.
The 1920s were brought to life in the Sexson auditorium on Friday night when PCC's theater department put on the play the Great Gatsby.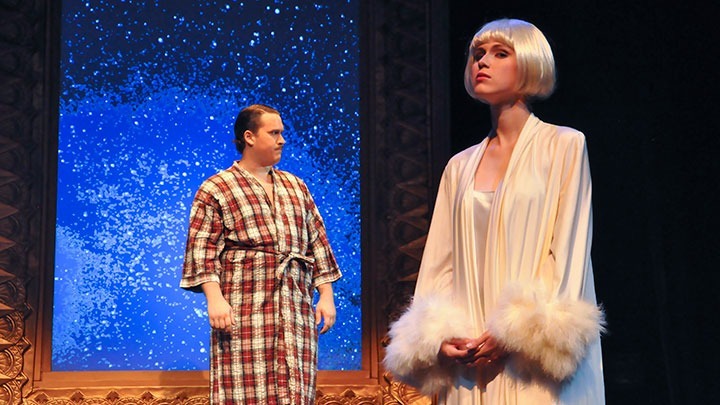 After a successful first night, Director Suzanne Jenner was satisfied with how everything went.
"It's really hard to have perspective after you've been rehearsing for five weeks [but] I was really pleased," she said. "I just told the actors, 'go for your objectives…and create real life on the stage.'"
Knowing that the Great Gatsby has graced the silver screen four times, first in 1926 and most recently in May of this year, Jenner decided to really focus on the relationships when tackling it for the stage.
"We really wanted to tell the story clearly," she said. "We just wanted to give life to all these characters into the story, which is still a story of today [with] the decadence of the rich and the American dream."
One aspect that Jenner seemed proud of was the diversity of the cast. She used that to relate immigrants to the American dream, exploring how they sought out the dream that everyone wants but never achieved it.
Jay Gatsby was brought to life by Daniel Kingsland, as "sort of an enigma," he said.
Kingsland prepared to play Gatsby by putting his personality aside and focusing on who Gatsby is.
"I sort of tried to forget about myself and try to think, 'what does Gatsby want? What is his goal,'" he said. "I try to start drawing something, see what kind of images come to mind. See what kind of thoughts I have to Gatsby."
All that work that Kingsland put into becoming Gatsby paid off, but that didn't stop him from looking to better his performance.
"I look forward to developing the character [further] and delving deeper into who he is and really just fully embodying him, his thoughts, [and] his mindset," said Kingsland.
A unique and interesting part of the play was how the set was built. The set was simple with a small set of stairs and three screens set at the top. When the lights go down at the start of the show, the middle screen plays several clips from the roaring 20s.
There are four more performances on Thursday at 8 p.m., Friday at 8 p.m. and Saturday at 2 p.m. and 8 p.m.
Latest posts by Tiffany Herrera
(see all)