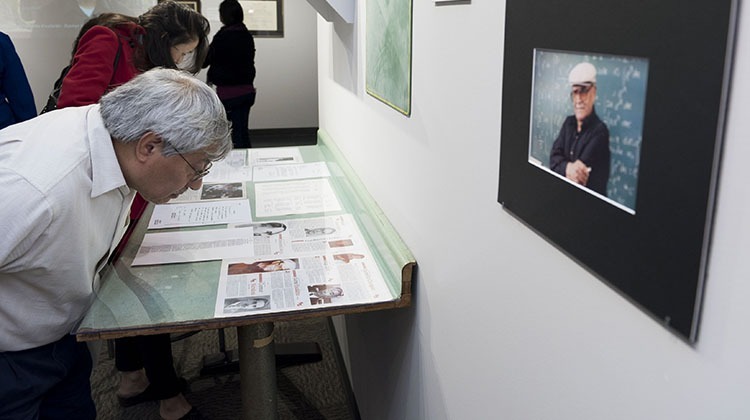 Live music and chatter filled the air at the opening reception for the exhibit "Jaime Escalante: A Life Con Ganas" on Thursday evening.
The exhibit honors Jaime Escalante, 1969 PCC alumnus and famed educator known for teaching calculus at Garfield High School from the mid-1970s to 1991. Over the span of his career, Escalante received numerous awards and recognition for his efforts, including the induction into the National Teachers Hall of Fame in 1999.
Escalante passed away in March of 2010 due to cancer. It was after his passing that his son, Jaime W. Escalante, came up with the idea of creating a space to honor his father's legacy. Working closely with curator Reina Prado, who travelled to Sacramento to meet up with him, the two sifted through the objects, which were in storage after returning from Bolivia.
"My father had taken all of his teaching materials to Bolivia, because of course, when he retired from the public school system in the U.S., he didn't completely retire in the sense, he kept teaching in Bolivia," said Escalante. "But he wasn't teaching anymore in the public system, he was teaching only in universities and then private tutoring or classes. [He used] all of his materials … he had everything there from [the past]. It was just my idea, 'why don't I make something out of those materials, make and exhibit or a museum."
Calling the Circadian its home, the exhibit is composed of Escalante's teaching materials and manipulatives, personal items such as his iconic hat, images of his classroom and Escalante himself, as well as a video projection in remembrance of his impact.
At the time Escalante and Prado started composing the exhibit's displays about a year ago, special consideration was given to the selections since the exhibit's location was still unknown.
"[We were] selecting items and just being really mindful that we didn't know what space we would be in, but knowing what would tell his story," Prado said. "I think I've told [his story] as best as I could, given the resources we had and I think it's a great overview of his teaching philosophy and his passion."
Among those in attendance of the grand opening were some of Escalante's former students. Elsa Bolado was part of Escalante's noted 1982 calculus class that received a letter stating there were issues with their AP calculus test scores, implying that the class cheated after a previous letter congratulated them for passing. By the time the class was notified of the issue, they were already entering summer programs as college freshmen.
"We all got together and [Escalante] said 'it's your choice, take it again or forget about it,'" Bolado remembered. "We really took it for him, we said 'we need to show him that what he taught us wasn't in vain."
As nerve-wracking as the exam retake was, with facilitators keeping a careful eye on every student, everyone achieved the same score as the initial test, except for one student who left the exam early to take her entrance exams at USC, according to Bolado.
The events of this particular class would go on to inspire the 1988 film "Stand and Deliver," in which Edward James Olmos portrays Escalante.
In addition to the exhibit, which runs until Apr. 10, a series of honorary events in Escalante's name will take place on campus. A live performance of "Stand and Deliver" put on by the Pasadena Playhouse will be held in the Creveling Lounge on Mar. 19 followed by discussions with Washington Post journalist Jay Matthews on Mar. 20 and journalist and author Luis Torres on Mar. 24. A screening of "Stand and Deliver" will wrap up the celebration on Apr. 2 in the WiFi Lounge.