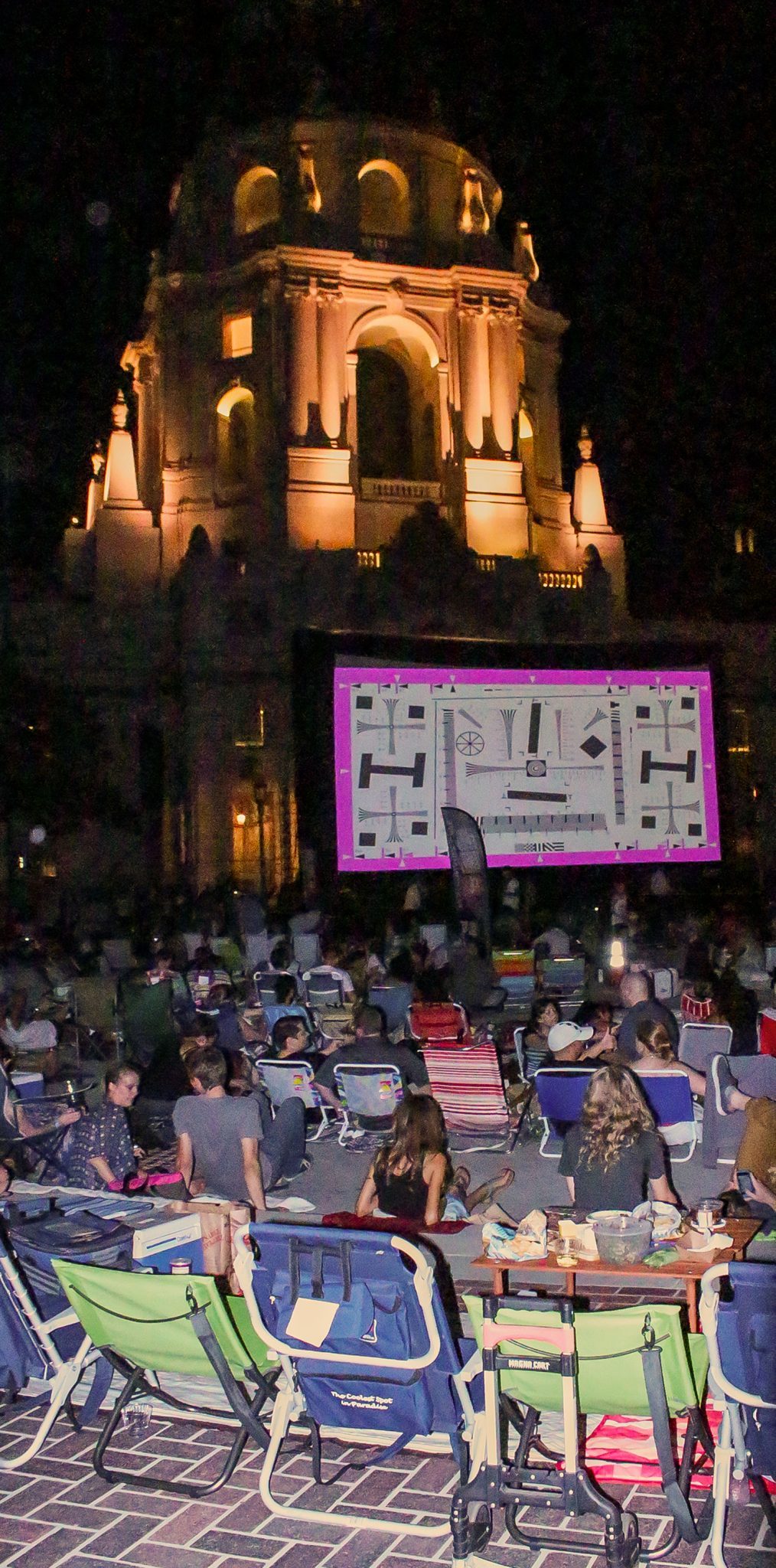 The line up near city hall was 100-plus deep waiting to get in, with thousands already inside. Equipped with beach chairs, blankets, picnic baskets, and pets on leashes, families en masse came to be entertained Saturday and see Richard Donner's 1985 family classic, "The Goonies," on an enormous blowup screen in the Centennial Square of Pasadena City Hall.
Although the long lines slowed, they did not stop and many had to be turned away for the sold out event.
"I'm not sure what the final numbers are, but I'm pretty sure it's up to 2,800 to 2,900," said event organizer, Jeff Sperber, of Eat See Hear, the event's producers. "A good amount of people."
In its third year providing such an event, married business partners Sharon and Jeff Sperber merged their marketing and promotion skills to form their company Eat See Hear. They felt that family film would provide a perfect opportunity for an end of summer event in Pasadena.
"We always do family friendly films here in Pasadena," said Sharon Sperber, the company's event director. "We knew that this would be one that people would like. We've shared 'Ferris Buellers Day Off,' 'Ghost Busters,' and the 'Wedding Singer' in the past, so we chose 'Goonies' tonight."
The privately sponsored event that began at 6:00 pm. featured a live band, The Janks, a DJ, V.I.P. picnic food service with special admission, and food trucks galore.
Sponsors like KROQ, JackFM, The Autry Museum, and Laemmle Theatres helped support the event. In addition to other perks for patrons, Mark Horowitz represented Laemmle by providing samples of that ever-popular, butter-drenched movie staple.
"It's something we do here as a community benefit," Horowitz said. "We figure if you are going to see a movie, you've got to have some popcorn!"
As dusk fell, thousands enjoyed the music of The Jenks, basking in the dimming heat to await the night's headlining movie event. The festival's host's make their events pet friendly, having bowls of water at easy reach and offering dog biscuits to patrons bringing their four-legged friends along.
"We have a non-profit partner with Best Friend's Society of Los Angeles," said Sharon Sperber, referring to the pet shelter. "At the end of our season, a portion of our sales goes to [them] to fund their No-Kill movement. So we are working towards making Los Angeles a 'No-Kill City' by 2017. No euthanasia in shelters."
With representing sponsors like Showtime, Eat See Hear was able to get a healthy film lineup for more this season. Jeff Sperber said upcoming events are planned at the Santa Monica Pier for their Front Porch Cinema series, beginning with a Jeremy Jones snow boarding film and continuing with the Oscar-winning Disney favorite "Frozen" to help cool down the summer.
"It's four free Friday nights," said Jeff Sperber. "And we have a bonus Thursday night that we are starting with."
Eat See Hear plans for more Pasadena events next year.
"We are already in the planning stages for 2015 summer," said Jeff Sperber. "We'd like two dates at this venue–bookends if we can—but we'll see how it all works out."
Eat See Hear's Front Porch Cinema series movie events begin October 2nd at the Santa Monica Pier, featuring "Jeremy Jones' Higher," "Frozen," "Gravity," "The Grand Budapest Hotel" and "Ferris Bueller's Day Off."
Latest posts by Monique LeBleu
(see all)