As dark clouds filled the skies over PCC on Halloween, the ambience of gloom and doom fit like a puzzle piece for the Fall Festival hosted by the art club. The festival allowed students to engage in Halloween-esque games and activities while simultaneously inviting everyone into the world of art.
The art club's Fall Festival was an incredibly social event; a photo booth, games like bobbing for apples, candy, and drinks were all located throughout the quad so that wandering students could take a look at each activity being held and appreciate the different types of art.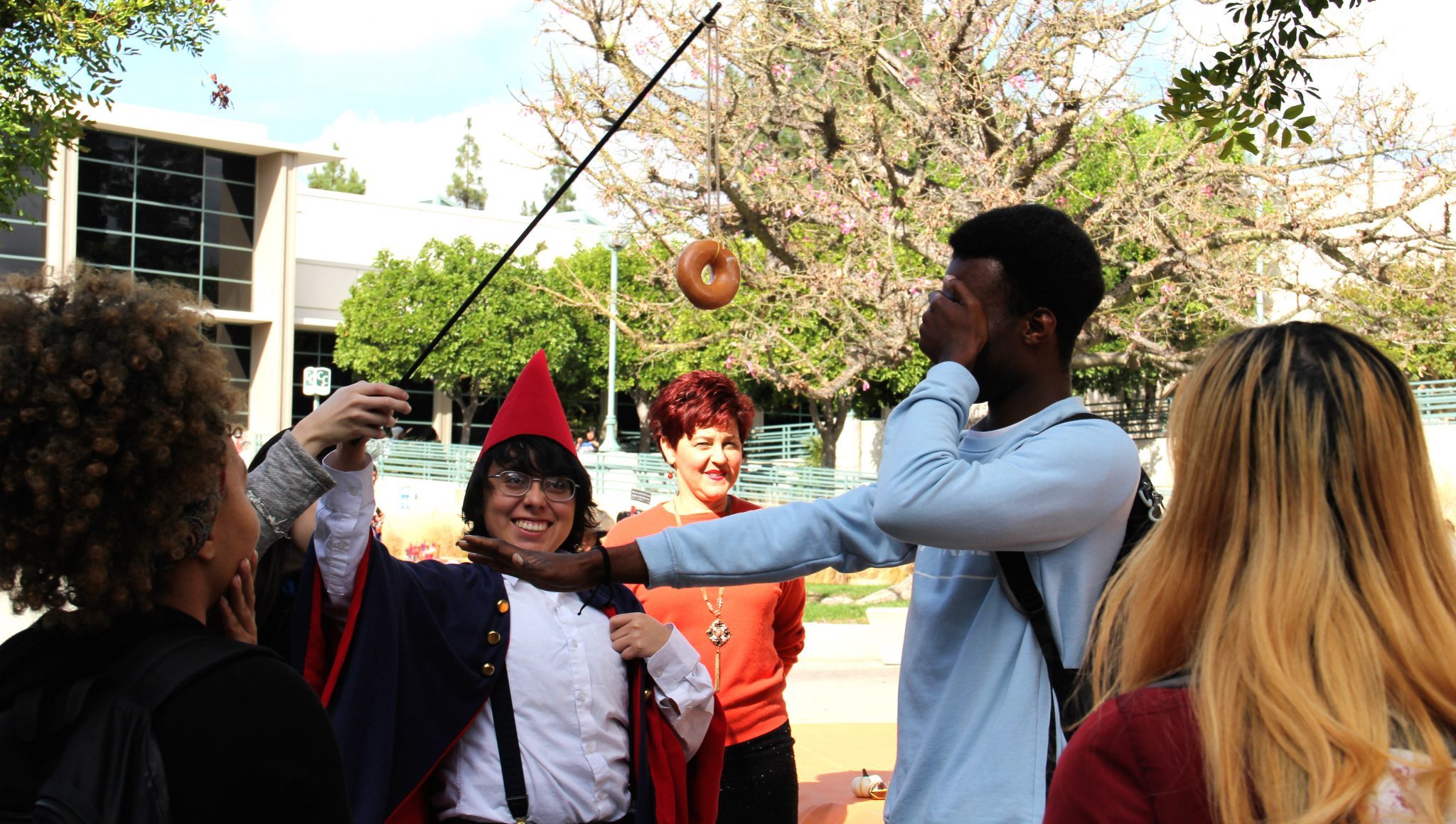 "We wanted to create a fun way for students to participate in art forms … we wanted to make a platform for collaboration and for people to work together," president of the art club, Faina Danielian said. "So there's gonna be performances, people selling their art, and people playing games or dancing and expressing themselves in the way they know best."
The festival not only included members of the club, but also volunteers and presidents of other clubs joining in on the fun by hosting games and recruiting students to join the art club.
"I appreciate what art club does and I like to collaborate with them because I'm a president as well. I'm the president of the gardening club and it'd be cool to incorporate art into stuff that we're doing," Connie Ebner said.
Assisting alongside Ebner with the ring toss game was president of the Vietnamese club, Edward Diep.
"I'm here to help out," Diep said. "It shows how our clubs can be united."
The festival included games like ring toss, where students would throw glow stick rings onto witch hats and 'Pop a pumpkin' where cups were aligned across a board and covered with napkins or tissue paper hidden with secret prizes. All the games were created by the art club students to make the festival more interactive and fun.
"We put everything together, we had a lot of decorations donated to us, we made some decorations we built our photo booth," said Danielian. "It was a lot of hard work but I think it was worth it, it was lots of fun."
Everything in the festival was free; if a student wanted to play a game they would just walk up to the table and play. However, students had the option of buying refreshments of either a mason jar or a science flask cup filled with apple cider or an Izze drink of multiple flavors.
Since everything was free, there were multiple donation boxes located on the tables to help out the festival and the art club.
"[The donations] go to helping fund our future activities … basically we're gonna use it to host workshops and help members expand their skills, get them more exposure and maybe doing more future events this semester," said Danielian.
Students were able to let loose and enjoy themselves with classic Halloween activities such as sticking their faces into a bucket of water to bob for apples. They were also able to participate in being blindfolded to try and find a Krispy Kreme donut.
"I was playing games, I won a prize, a little eraser and I also got some drinks and pizza," said first-time attendee freshman Laura Beralda. "I hung around here, talked to people and made new friends,"I would definitely [come again]."