A lot can happen in one hundred years. Culture can shift and the beliefs and lifestyles of a society can change drastically. A major catalyst for a new wave of societal beliefs in our world was Jackie Robinson, who was honored at PCC's Westerbeck Recital Hall this past Sunday, Sept. 29. Robinson was born in 1919, and the musical recital that took place on campus is aptly entitled "A Swinging Centennial: Jackie Robinson at 100."
The recital was presented by the Baseball Reliquary and multi-talented singer/songwriter Byron Motley started off the show. His set included a collection of songs from artists such as Lionel Hampton and Nat King Cole. The performance also combined clips from an upcoming documentary on the Negro Baseball Leagues, which Motley is producing.
Motley has a personal connection to the history of the sport, being the son of legendary baseball umpire Bob Motley. For Motley, the opportunity to use his musical talents to reflect on Robinson's contributions is something to cherish.
"Robinson inspired my father to take umpiring more seriously," Motley said. "I'm honored to honor him. He paved the way for all of us."
Furthermore, Robinson's 1947 debut as the first black man in Major League Baseball has a deep meaning due not only to its milestone quality, but also in relation to the fact that it emerged through the sport of baseball.
"It was a seminal moment in our country," Motley said. "The fact that it was baseball spoke volumes. Everybody loved baseball. It was important that it came out of that entity."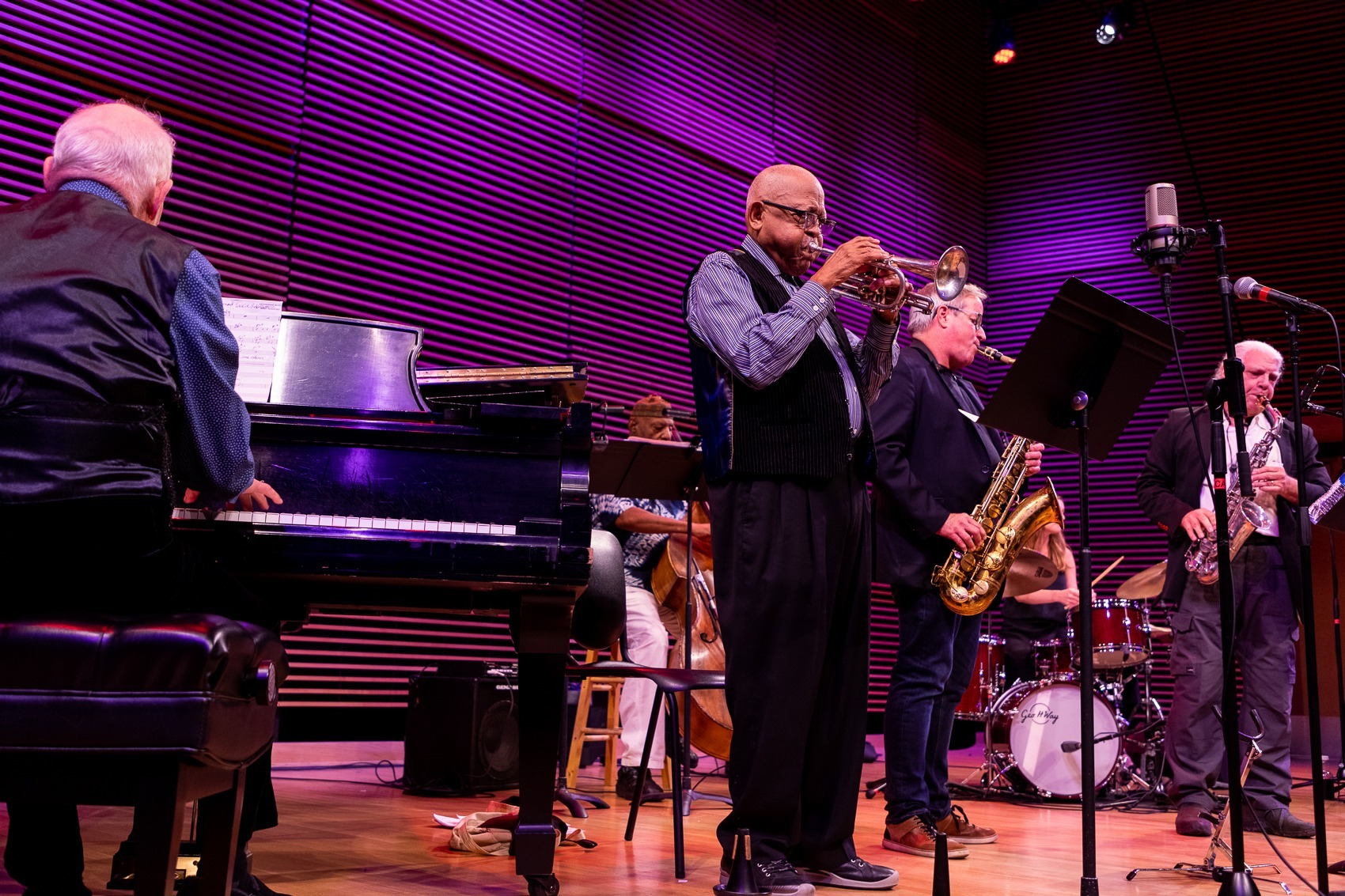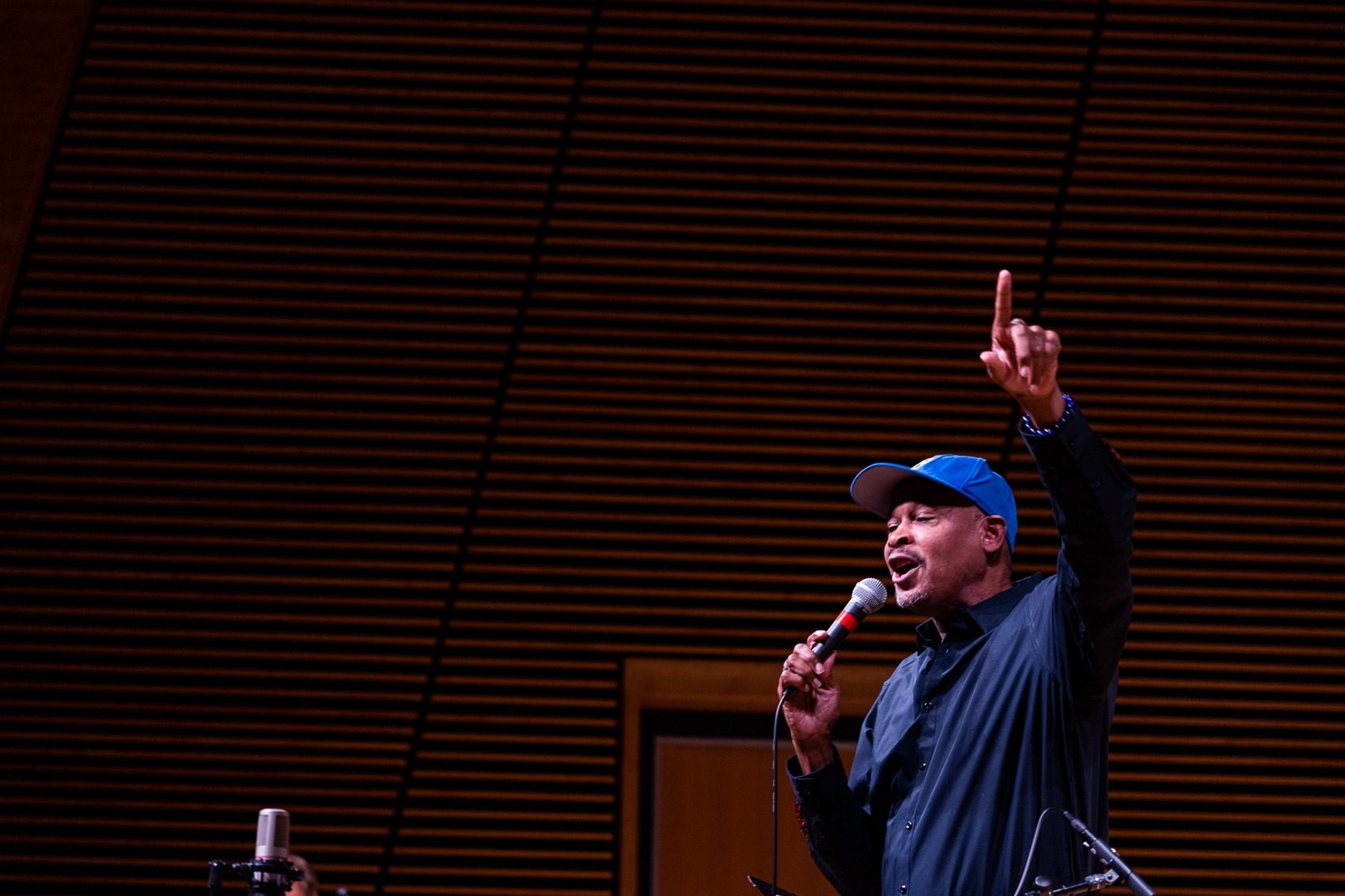 In attendance at the performance was Adrienne Bratton, whose father, Emmett Ashford, became the first black umpire to enter into the major leagues in 1966. Hearing the jazzy musical numbers felt nostalgic for Bratton, who learned to dance from her father while listening to similar songs.
"It brought back memories. It was upbeat, interesting and informative," Bratton said.
Following Motley was a performance by renowned jazz musician Bobby Bradford, who wrote a jazz suite especially for the event. The piece consists of four vignettes: "Lieutenant Jackie Robinson," "Up From the Minors," "0 for 3" and "Stealin' Home." Each segment represents a different era of Robinson's journey from a young lieutenant in the army to a chief contributor in the major leagues.
Bradford was in seventh grade when Robinson signed on with the Dodgers, and the importance of that momentous event was palpable both at the time of its occurrence and throughout the years to follow.
"It was a serious, not only sports event, but a sociopolitical event," Bradford said. "Robinson enriched our lives as Americans."
Being able to look back on this time, Bradford said he has recognized the great pressure Robinson endured while representing all black Americans as the first black player in the league. This perception helped Bradford write music that connects deeply to the emotions he imagines Robinson to have felt at the time.
"What helped me write this piece was thinking about what a burden he was carrying," Bradford said. "A lot of us didn't realize except in retrospect what a burden it was."
Once he began seeing things from Robinson's perspective, the musical expression of Robinson's experiences started flowing to Bradford.
"It didn't take very much for me to try to get into his head via the music, and see if I could write some pieces that reflected how I felt then and how I'm feeling now in retrospect, and the rest of America," Bradford added.
Like Motley, Bradford sees it as a privilege to be chosen to honor an icon of American history.
"He's a great American," Bradford said. "He's a hero."
The reception from the crowd throughout the show was warm and positive, with spectators admiring the musical renditions played to celebrate Robinson, who was a PCC alum.
Attendees Norm Abejon and Sam Estrada both felt thankful to be able to witness great musicians remembering Robinson.
"They're world-renowned artists," Abejon said. "To get to see them play together is a real treat."
"It was incredible," Estrada added.
Four more performances to honor Robinson are planned through December. The next show, on Oct. 21, will be held at 7:30 pm at KPCC Studios in Pasadena. A panel discussion will follow Bradford's performance, and guests can RSVP for free of charge at KPCC-FM.
Latest posts by Devin Herenda
(see all)