With DJ LuiJay playing Hip-Hop over the speakers, artists from different backgrounds took to their easels with only 20 minutes on the clock. Their objective? Paint a work of art to win the votes of spectators and move on to the next round.
Art Battle LA took place last Tuesday at Boomtown Brewery in Los Angeles. The artists are able to paint whatever they would like on canvas. They could choose their paint colors and tools, but must adhere to the strict 20 minute time limit, which was the most intriguing aspect of the event. Patrons could then vote on their favorite work of art, as well as bid on the artwork in a silent auction.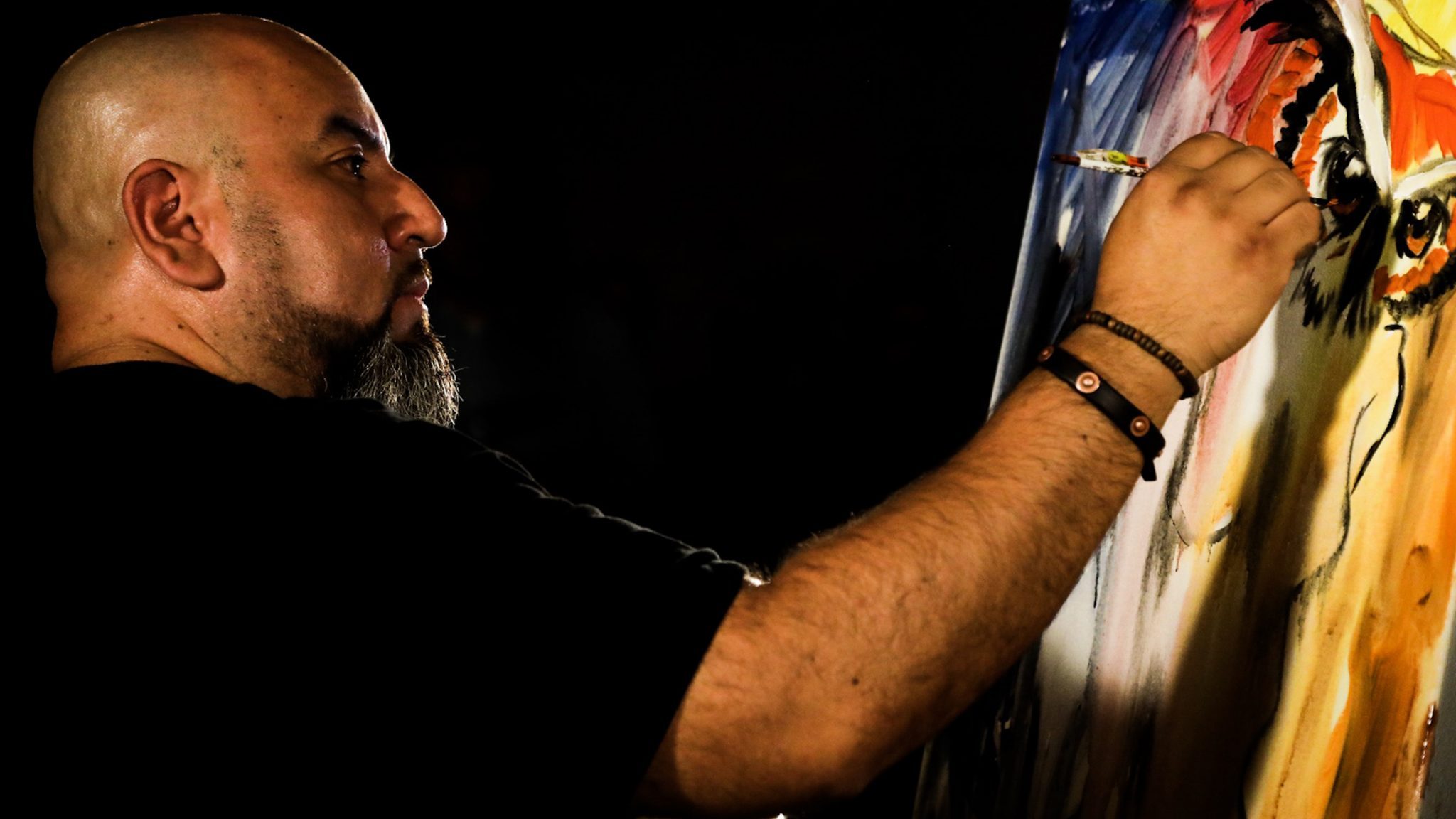 A crowd of spectators gathered as the artists brought their canvases to life, taking selfies, snap-chatting and posting to their Instagrams. People stood behind the artists in the early minutes of the competition attempting to guess the artist's intent. After time ran out, boxes were placed next to the easels for people to place their votes and then the art was moved to a nearby area and put on display for the silent auction.
For the first round, two groups of six artists competed, and two were selected from each round to compete in the final.
One "wildcard" entry was selected to compete in the first round by drawing names from a bowl. Spaz12, a young and talented street artist from Costa Mesa was the lucky selection for the competition.
He shared his strategy for the competition in hopes of being selected as the wildcard.
"I practiced all day, did 20 minute pieces only, knocked out a few of them, came from Costa Mesa on the bus, and luckily, my name got drawn," said Spaz12. "Didn't come with an idea, no same paintings, just 100% wildcard."
A few of the artists had a background in street art, which in theory would give them somewhat of an edge over the competition due to the fact that graffiti is all about speed — the ability to get in, put up your work, and get out.
Spaz12 touched on this, saying "You have to paint fast paced or else… graffiti definitely brings an edge and you develop in that area."
Spaz12 did not make it into the final round which consisted of four finalists, LaJon Miller, Pablo Damas, Ali Sabet, and Nicholas Tarr.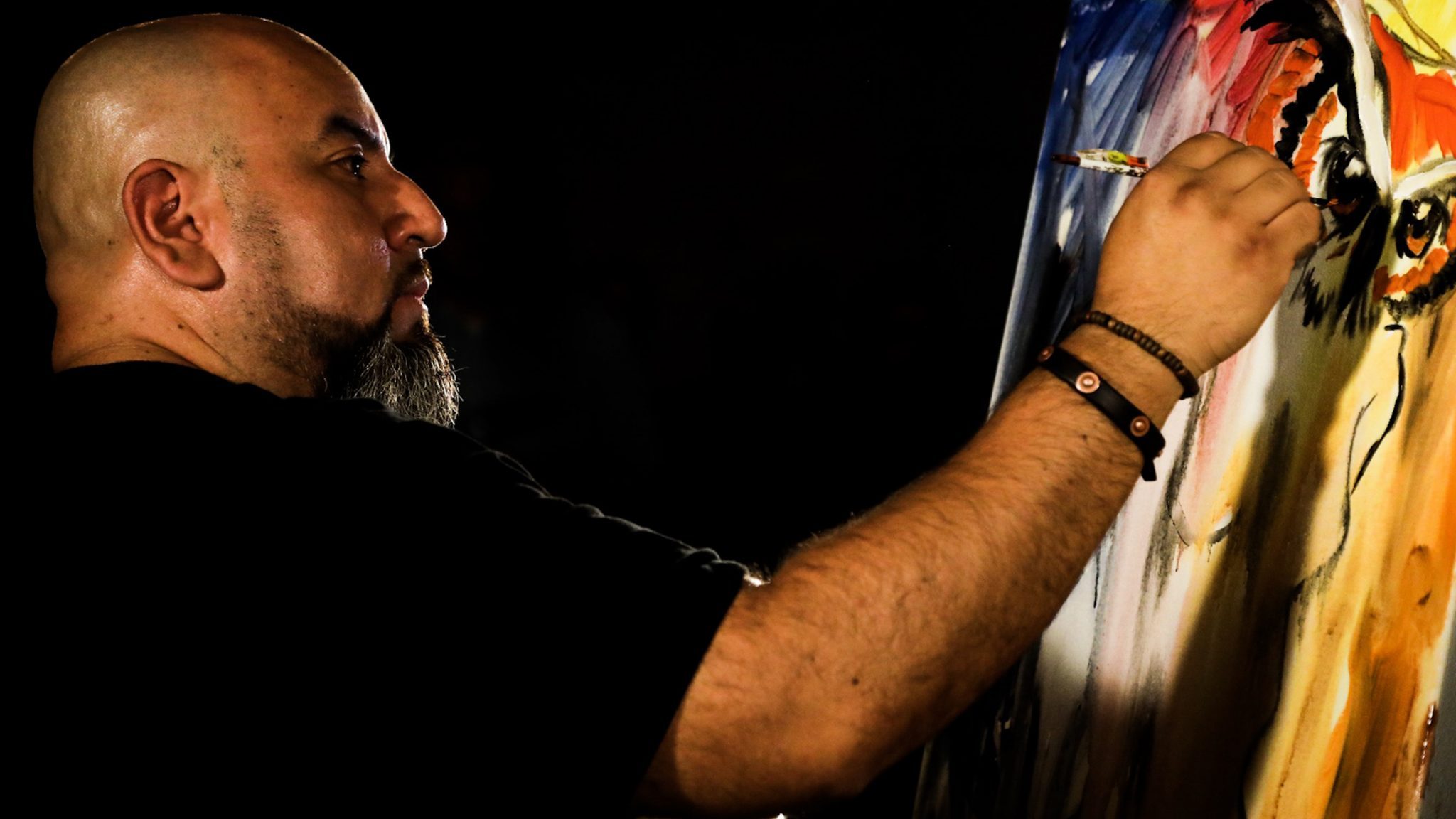 With only the four artists competing in the final round the field was more spaced out. The artists stood facing in, with no one next to them, all unable to see what the others were working on.
Each of the four artists had a palette full of color, all of them trying to paint a colorful masterpiece to grab the attention of the onlookers. Crowds would gather behind certain artists throughout the battle, but as the competition came to an end one artist seemed to have a slightly larger group behind him.
Pablo Damas was dialed in on the canvas, painting an abstract owl figure that exploded with attention-grabbing color. After the votes were counted he was announced as the winner of Art Battle LA.
Damas, a lifetime artist, stood with his winning work of art as people came up to talk to him, take photographs of his painting and take selfies with Damas and his work.
Damas ended with talking about how he prepared for the event and how he tries to not overthink things when coming up with an idea for competition.
"I try to practice a little bit, just to get a good concept," said Damas. "The owl has been hot lately, you see it a lot, the figure, so i just went with it.