The Lancers' volleyball team extended their current win streak to seven games with an exciting three-set victory over visiting Mt. San Antonio College on Friday.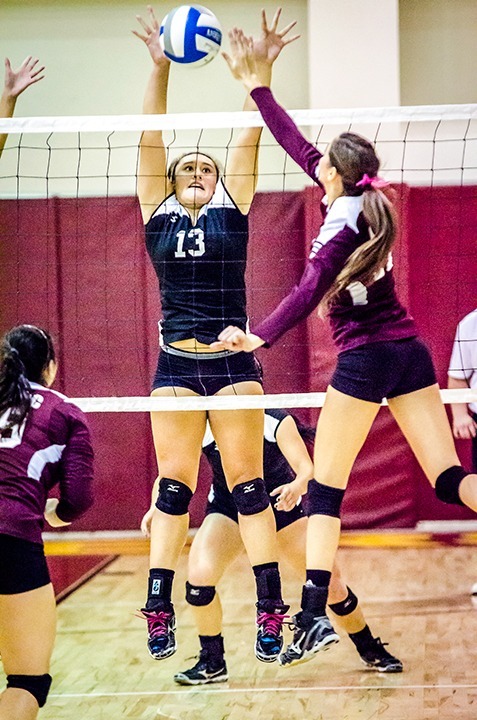 Avenging its only conference loss of the season, the Lancers played one of their most inspiring games of the season, never trailing the visiting Mounties. They won 25-20, 25-17, and 25-21.
"I think our hard work is starting to pay off," interim head coach Bill Sanchez said. "I think we have the kids believing they can do what they're set out to do so it's nice."
In the second set, the teams were tied 10 different times until 16-16, that's when outside hitter Nora To'omalatai went to work with three consecutive kills to give the Lancers a 19-16 advantage. To'omalatai continued her successful season recording 17 kills, 11 digs and three aces against the Mounties.
"Nora really stepped it up tonight and it's what great players do," Sanchez said. "She's got unlimited potential because she can power the ball at terrific speed. We have two freshman middle blockers that are controlling the net in Angela Banuelos and Kendra Logan. Angela made plays at key junctures for us."
Freshman Kendra Logan, who sat out the first meeting because of injury, helped give the Lancers a big help in the middle defensively. Although she only recorded three kills and three blocks, Logan's presence against the Mounties gave fellow freshman Banuelos her defensive partner in crime. Banuelos recorded seven kills and seven blocks (one solo) to help the Lancers give Mt. SAC trouble at the net all night.
"Our defense definitely won this game today and it feels great," To'omalatai added. "We have to keep communicating with each other that was a struggle the past few games, and today we actually showed what kind of team we are, which is a really good team."
The Lancers (12-8 overall) remain tied with No. 11 El Camino for the conference lead with 10-1 league records, but PCC holds the ace card having already beaten the Warriors on the road. Friday's victory over the Mounties knocked Mt. SAC (8-3) out of the conference race. Barring any upsets this coming week, the SCC crown will be decided on Nov. 20 when the Lancers host El Camino in the conference finale.
"Very impressed, I'm speechless," sophomore outside hitter Thula Parks said. "It's so cool to come out with the victory tonight, especially a team that beat us earlier in the season. It's just the best feeling ever."
Parks had nine kills, 12 digs and three blocks. Sophomore right side hitter Brian Hilton added five kills, 11 digs and two blocks in one of her best matches of the year. Letterman sophomore setter Tiffany Roesler dished out 38 assists and made eight digs while sophomore libero Victoria Arreola was strong on serve receive and overall defense with 13 digs and two aces.
The Lancers host East Los Angeles College on Wednesday, Nov. 13 at 6 p.m at PCC's Hutto-Patterson Gymnasium.