The Lancers football team came out looking strong in the first quarter but couldn't keep up against the regionally ranked No. 7 College of the Canyons Cougars. The final score was a dismal 56-10 in the SCFA National Northern Conference opener.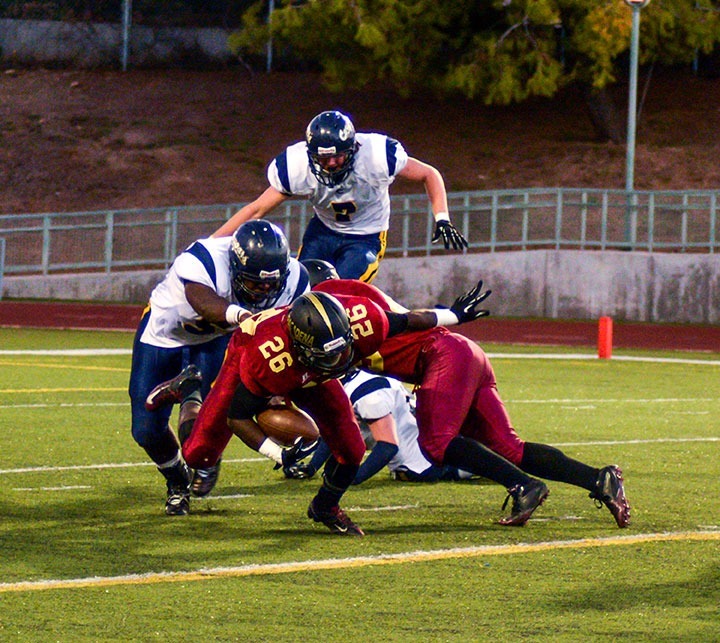 The Cougars are the only team out of the 53 California Community College opponents that the Lancers have faced that they have never beaten.
"They are a tough team to play against," head coach Fred Fimbres said. "They are obviously one of the better teams in the region."
PCC scored first, opening the game with a five-minute drive down the field. That led to a 38-yard field goal by kicker Richard Cardenas, giving the Lancers a 3-0 early lead. That would be one of the very few bright spots in Saturday's game.
"The defense got tired," said wide receiver Turner Jackson, who had 189 all-purpose yards in the game. "That was [the offense's] fault. We need to do a better job in executing the game plan."
The first half ended with the Cougars leading 20-3, but in the third and fourth quarters, they tacked on 34 more points. On top of that, COC piled up the first downs, ending the game with an overwhelming 32 to the Lancers' 12 first downs.
"The defense was out there a little too long in the second half," defensive coordinator Carl Lopez said. "They had many opportunities to read our schemes and were able to make adjustments."
A few players did have some very good moments in the game, showing great effort. Runningback Marciss Grigsby carried the ball 11 times for 94 yards, while linebacker Roy Torres and defensive back Rodon Ogilvie had seven tackles apiece.
"We need to play through the entire game," Jackson said. "And not just stop after one quarter. We'll work on execution and come back next game and see what happens."
The Lancers travel to Norwalk to face Cerritos College this Saturday at 7 pm.