To say that the Lancers football team didn't do that well last season would be an understatement. PCC finished with an appalling record of 3-7. All that being said, head coach Fred Fimbres is confident that this year's team, a group of Lancers with a majority of returning players, will be much better.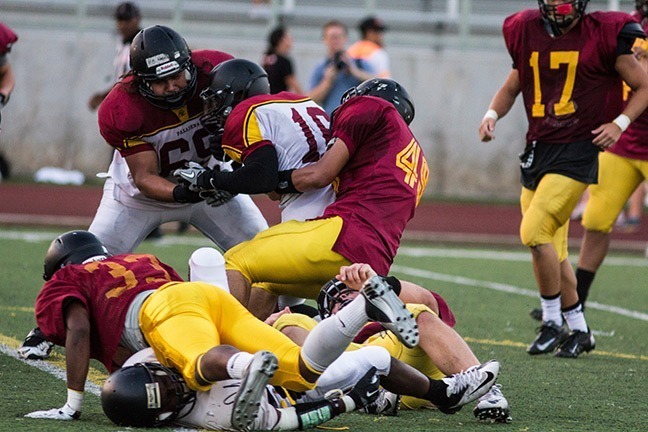 "Last year we had a team full of freshman," Fimbres said. "Most of them were right out of high school and were probably distracted by things like school and other off-field stuff. Now that they are more experienced, I feel like this team can really contend."
The biggest strength of this team lies within the offensive and defensive lines.
"We have five returning linebackers," said defensive coordinator Carl Lopez. "We were really young last season… We are more solid this year."
The Lancers will be introducing a new quarterback, Darrian Cazarin, who passed for 4,355 yards and 42 TDs in his last two years at Alhambra High School.
"He will be starting on Saturday," Fimbres said. "He is a freshman, but is not new to college life and that helps out a lot. I hope to see good things from him."
Returning to the offensive line will be running back Marciss Grigsby, who had 115 carries for 493 yards and three touchdowns last season. Also returning will be fullback Steve Denov, who will be counted on to provide some key blocks this season.
PCC will face its first challenge on Saturday at 6 p.m. against Citrus College.
"We are going to play base defense on Saturday," Lopez said. "We are going to keep it fairly simple for the first game. Hopefully, that will get Citrus to make a few mistakes."