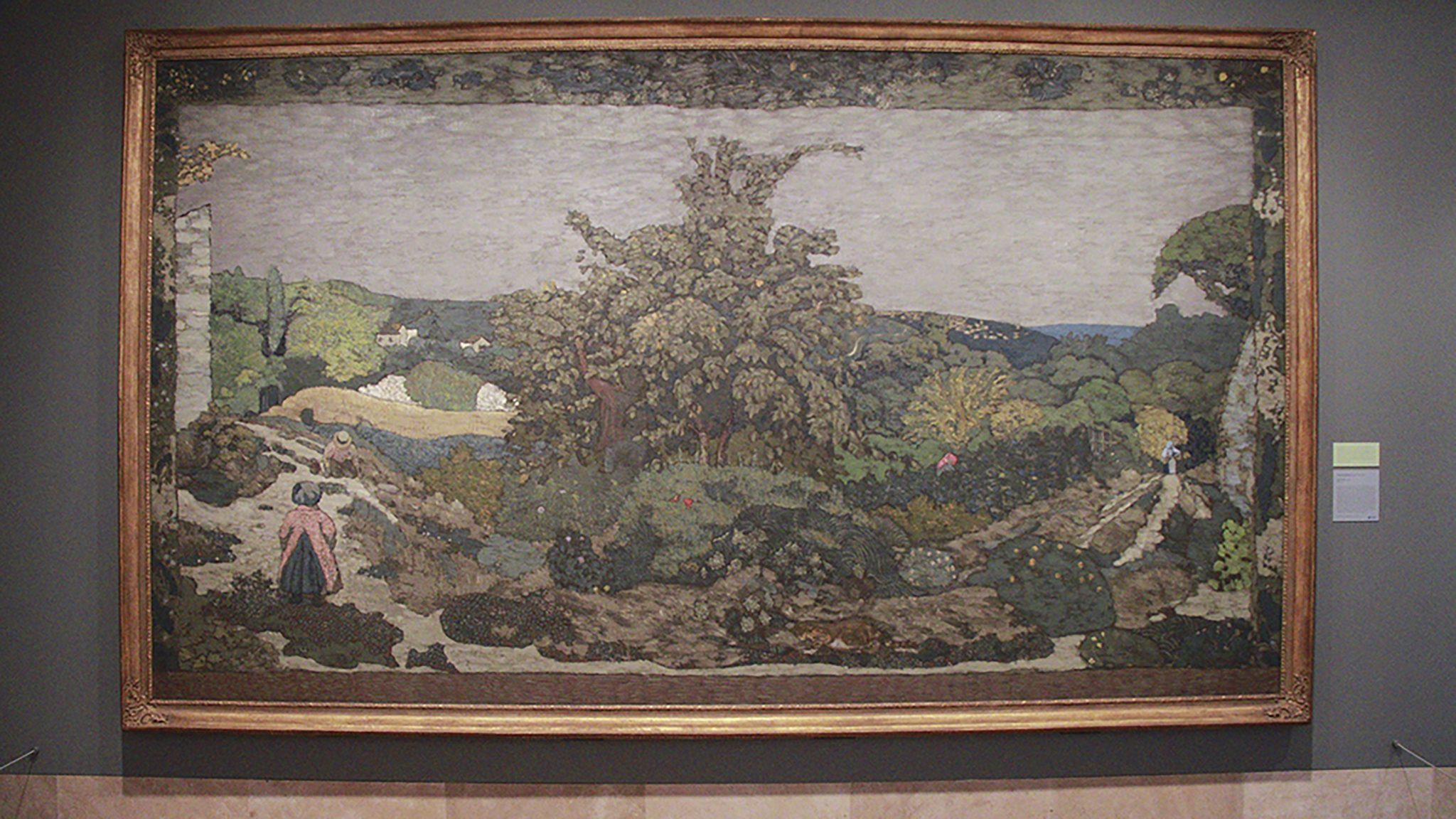 Past stone benches of cold and chiseled white marble, swinging glass doors and a statuesque stone Buddha lies lies "Landscapes and Interiors," a collection of prized, turn-of-the-century French art created by Édouard Vuillard housed in the Norton Simon Museum.
To the untrained eye, Vuillard's pieces are seemingly flat and have much less color than other works in the museum, but with a small history lesson and a briefing from a museum curator, Vuillard's art flourishes with life and dimension. Vuillard is best known for small-scale paintings of interiors and landscapes that he chose to populate with his family and friends, from which he liked to draw his inspiration, according to the Norton Simon.
Vuillard's upbringing is a crucial point to understanding his beginnings as an artist, explained Emily Beeny, an associate curator for the museum.
"[Vuillard] was the son of a dressmaker and grew up in a home full of fabrics. I think we really see that in his treatment of, for example, the vibrant wall coverings in a group of three lithographs known as "The Pink Wallpaper", or in his flat, abstract rendering of a blue-and-white-tiled counter in another print from the same album titled 'The Kitchen'," Beeny wrote in an interview via email. "Vuillard's interest in flat, patterned surfaces allowed him to move seamlessly between painting and printmaking, creating strikingly modern images in both media."
While working with exhibits coming into the museum, especially ones as rare and fragile as those such as Vuillard's, Beeny could not help but to form attachments to the art she helped care for and prepare for the public eye.
"Though I've only worked at the Norton Simon for a year and a half, it's a collection I've known and admired for many years," Beeny wrote. "Having spent quite a lot of time with "First Fruits" during its cleaning, watching Vuillard's richly varied brushstrokes emerge from under a layer of glossy varnish, I'd certainly say that picture is a sentimental favorite."
Vuillard did not always work entirely alone in his process of making masterpieces. He printed on lithographic stones and turned to master printer Auguste Clot who assisted Vuillard in his lithographic printing of Landscapes and Interiors.
Beeny found that if Vuillard were alive today, she would like to know more about this lithographic teamwork.
"I'd have some quite specific questions about the nature of his collaboration with the master lithographer Auguste Clot, who actually printed the album [Landscapes and Interiors], and with whom Vuillard seems to have worked very closely, sending proofs back and forth, making slight adjustments to color and composition," Beeny wrote.
No matter the artist, collections as rare and fragile as Vuillard's are certainly a treasure, for both a museum to hold and for the public to view. Beeny took pride in curating such a collection.
"We're very fortunate to have an intact and beautifully preserved copy of this album (titled "Landscapes and Interiors"); I hope that visitors' experience of the lithographs will enrich their experience of the painting and vice-versa," Beeny wrote.
"It's hard to pick, but I'd probably have to say the "Pink Wallpaper" sub-set [is my favorite]. The colors are so vivid, and the pattern, almost hallucinatory," Beeny wrote.