The Board of Trustees has approved a proposal by the Health and Safety Committee that will make the campus smoke free beginning on January 1 of next year.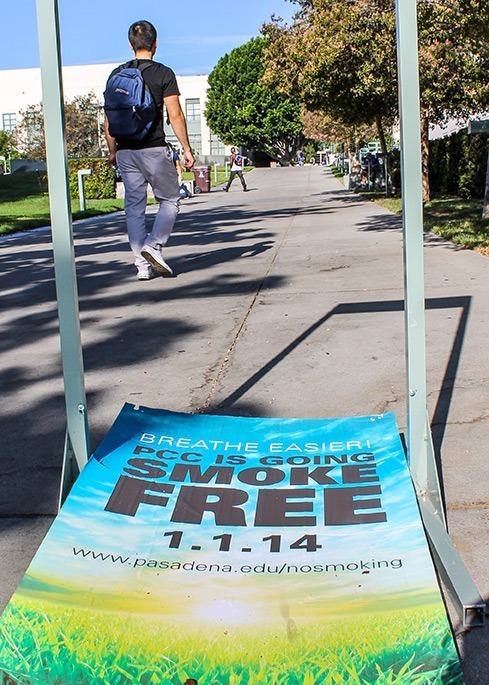 According to Jo Buczko, coordinator of student health services and Health and Safety Committee member, any student caught violating the new smoking policy will be fined and must pay the fine within twenty-one days.
"If a student is caught smoking they can pay a $25 fine or enroll in and complete a smoking cessation program," Buczko said. "If they violate it again they must pay $50 and it goes up to $75 the third violation. If they keep going they have to see the dean."      Associated Students President Jordyn Orozco said A.S. supports the new changes in the smoking policy and made the recommendation to give students the opportunity to avoid paying the first-time fine by enrolling in and completing a smoking cessation program.
"[We wanted to have] an environment where students were not affected by cigarettes. We supported the new revisions in the smoking policy but we added the cessation program," said Orozco.
Campus Police Chief Don Yoder said unlike the previous policy campus police will be enforcing this new policy.
"It was never enforceable so we never enforced the designated smoking areas. If an officer sees an individual smoking after January 1 they'll be cited for smoking on campus," said Yoder.
Yoder also says that if someone refuses to pay a fine it might go to collections.
"If a student does not pay a fine it may go to collections like a parking fine."
Buzcko says among the things now banned are cigarettes, cigars, pipes, bongs, and smokeless devices like the electronic cigarette; chewing tobacco, however, is still permitted on campus.
According to Buczko, the school surveyed over 2,000 students and faculty on the smoking policy during extended spring.
"We got feedback from over 2,000 students and faculty, 61 percent wanted smoke-free and 72 percent wanted enforcement," said Buczko.
Buzcko says that if a student or faculty member wishes to smoke they must do so on the sidewalk but must keep moving to comply with Pasadena's law that forbids smoking within 20 feet of a building.
"We are not saying that people can't smoke. We are just saying they can't smoke here. We wanted to protect the greater good and the greater good does not smoke," said Buczko.
Students on campus have had mixed reactions to the new updates to policy.
David Nuno, history, disagrees with the new changes and said he feels they are unfair to those that smoke.
"I think the new changes are draconian," he said. "For a lot of staff, faculty, and students, smoking is a way of relaxing and getting away from your problems and it bugs me how all these anti-smokers who are responsible for these recent changes are saying this kind of smoking as a behavior is wrong. This anti smoking fad is just another prohibition in another form."
Bianca Perez, business, supports the new smoking policy because of the cigarette smoke she must deal with when people do not smoke in the designated areas.
"I do agree with it because I hate walking through the halls and smelling the smoke, it tends to make me cough," said Perez.
Ashley Lopez, nursing also agrees with the policy because of the ineffectiveness of the current policy.
"I'm for it because no one listens to the current policy," said Lopez.