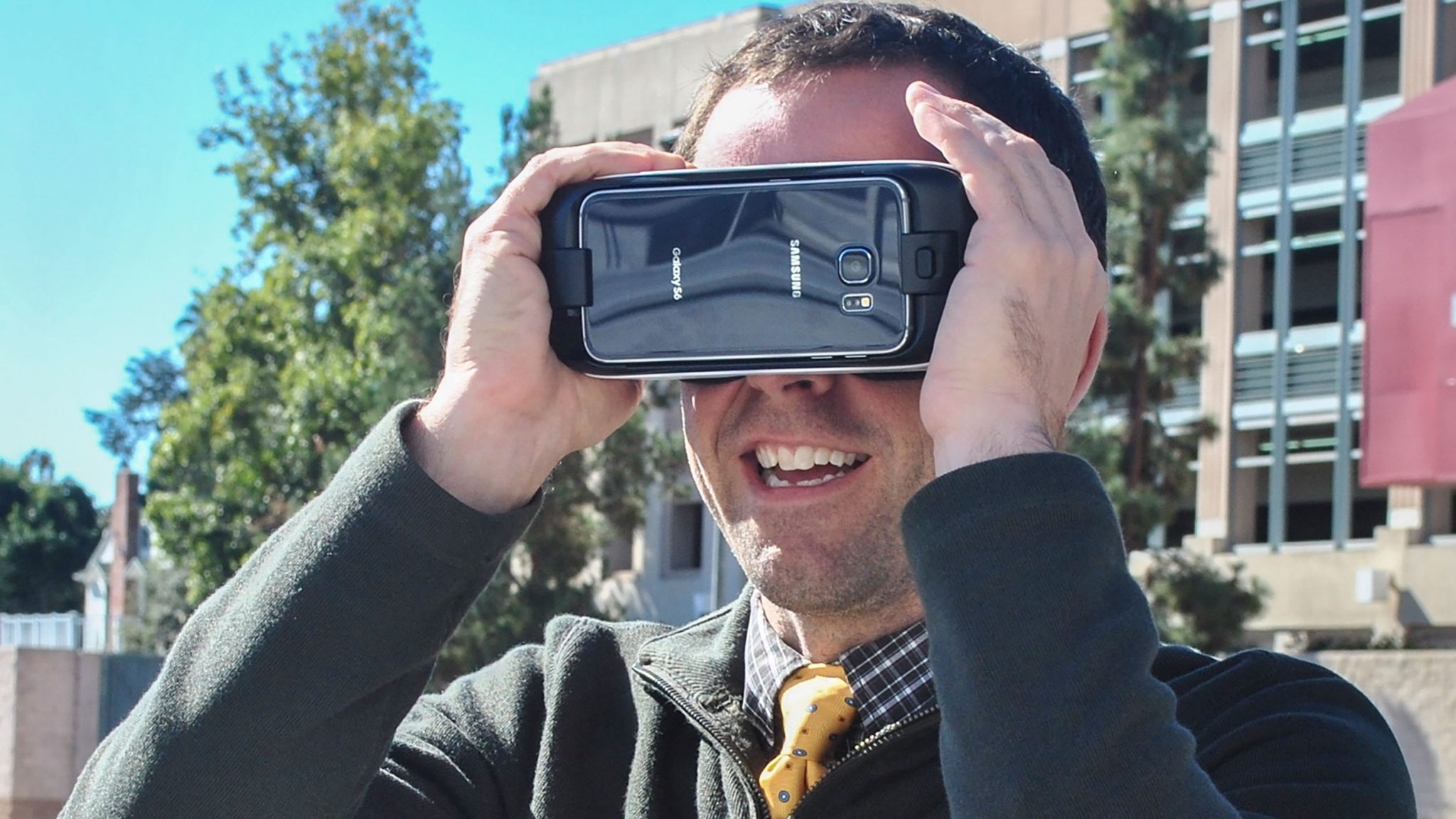 Standing in a Gettysburg battlefield, you look up. It's a clear day with a cerulean blue sky, bright clouds and a wide-open field. You look around and you are surrounded, the field lined with a five foot spiked perimeter fence and cannons at the ready. You reach out to touch the cold, black metal, but it's not there. But you are.
That is what a 3D image that will be provided with Google's newest immersive experience online is like.
David Steiman, media production specialist for Lancer Lens and producer for PCC One and Chase Massingill, an independent contractor for Google, teamed up on the PCC campus on Thursday, Nov. 5, to produce a unique virtual reality viewing experience to the campus for Google Jump.
"The difference between Google Jump and Google Earth is that 360 degree 3D images, so when you look at them in a viewer, like with Google Cardboard for example, you experience it in a more realistic way," said Massingill, a 3D photographer and animation and visual effects artist of Kinetogenic.
PCC has been chosen as one of the first schools to use Google Jump to create 3D campus-wide images as part of a multi-state virtual reality project to covering landmarks such as the Statue of Liberty and Ellis Island, as well as schools and even textbooks.
Viewing the images can be done by using Google Cardboard—a "card board" or other viewer, such as a Mattel Viewmaster, and a 3D viewing app—and your own smartphone. Google Cardboards can retail for as low as $20 depending on your phone and your own personal taste. However, the 3-D apps available are as diverse in price, type and quality as the common smartphone.
The Jump camera rig and assembler is equipped with 16 "off the shelf," 12-megapixel GoPro cameras using 64 gigabit SD cards to store the virtual reality hi-resolution images.
The Jump assembler does video as well, where currently some video content is already being made available to view on YouTube. But for the project involving the campus, Google will provide 3D stationary images.
"Right now we're just starting with photos, because it's just a lot of data to support jump content," said Massingill. "I did a quick video that was about a minute long, and it was about 6 gigs [of data],"
The Google Jump imaging project is being piloted in just a few states and began in New York before jumping through the mid-west to the opposite coast of California.
"Google emailed us and asked us if we would be interested in participating in this pilot. And we looked at the technology that we saw," said Steiman. "And if it's Google, if they are asking you to participating in a pilot, you say yes."
Specific areas of the campus, such as the Center for the Arts building, the Westerbeck, the Library, the Hutto-Patterson Gymnasium and Robinson field, and the Observatory, were covered.
But with the ease and speed that the team traveled through campus, the agenda list grew and changed on the fly. Within just a brief two hours time, the team freestyled, covering nearly all areas of campus including the mirror pools, a xylophone ensemble in the Westerbeck, the Courier newsroom, the veteran's center, the bookstore, several active classrooms and more.
A natural stop on the campus was the Fab Lab, which contains several 3D printers currently being used for projects in learning, both off and on campus.
"I had my list, but as we walk around campus, it's like 'Oh let's get this! Let's get that!' said Steiman. "So I'm going off script because we want to feature as much of the campus as possible. Ideally, we can show students and potential students are anybody interested in PCC a little slice of campus life and what we're about."
The end product of the 16 images will be put together or stitched into an equirectangular projection, mapping out a complete 360-degree image where the proportions are equal. The images would need to be seen through a 3D viewer.
"So it's in stereo. It's over and under. On the top is the left eye. And the bottom is the right eye," said Massingill. "Each image looks like…. Mercator or lat/long projection….basically it's as if you were to unwrap a sphere into a flat image."
A few hours on campus completed the task. For the most part, photography took an average of one minute to set up the cameras and complete.
"I have 937 images on each camera, so it's about 16,000 images already. Probably more than they want me to come back with, but I'm here so I am shooting all I can," said Massingill. "I give all these images to Google, they download them, and they "stitched them all and put them all together."
Massingill feels that eventually when the product it goes commercial, there will be a connecter that enable the cameras to communicate with each other better.
"I just think that it's exciting that people everywhere around the world, for example, will be able to see what PCC has to offer," said PCC spokesman Alex Boekelheide, joining the Google Jump team at Robinson Field. "They can read about it online, but if they can immerse themselves in a virtual environment and I just think it gives them access and experience to what PCC gives as an educational institution and as a location."
With Google Earth's constantly updated street, aerial and water view images available to everyone and anyone who has access to online computing, it is currently possible to virtually travel nearly every place in the world.
"I just think it's cool that Google contacted us," Boekelheide said. We kind of see ourselves as trying something new here, and I think it's fun to be able to do here. It's good to try new stuff and to put ourselves forward like this, so we're stoked!"
The images will be sent to Google, where they will be stitched together and made available for viewing in a few months.
View our full photo gallery here.