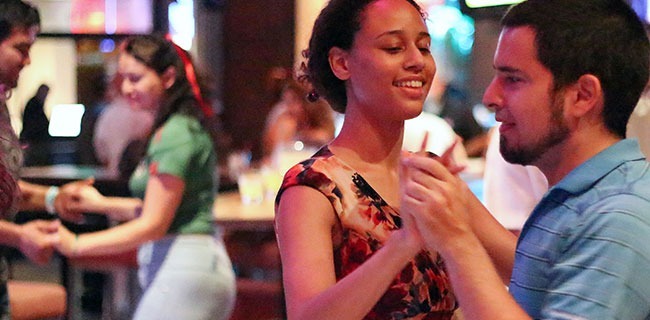 Salsa, Merengue, Flamenco, Samba, Cumbia or Cha Cha – Latin dance moves the club IXTapa through PCC alum and instructor, club promoter and business owner Sergio Leal.
Leal began as a math major at PCC and became a teacher's aid for 10 years after transferring to Cal Poly Pomona to earn his math degree. However, after attending a dance course at PCC with Francisco Martinez, now of Dance Family in Pasadena, he developed a fascination for dance that quickly became a way to decompress and meet new people.
From there, this led to assisting an instructor and later teaching at PCC and on his own in studios and at nightclubs through his company, Latin Dance Pro. During this time, Leal started a unique online international dancewear store, Latin Dance Fashions, which helped with the rental of studio space. He also pursued other ventures and competed worldwide in dance competitions. After seven months of his online store being open, he was able to buy a house.
"I taught in Glendale, and at the Congo Room in Los Angeles," he said, prior to his teaching at IXTapa Cantina on Tuesday nights in Old Pasadena. "IXTapa is one of the places that I promote. I have been promoter there for five years. It started off just inviting students to take classes, and then they'd stay and social dance. I've been teaching for 14 years, so I have a lot of students who have been loyal to me and have been following me. So any time I open up a club, I send an email to them and they come and support."
A big draw to IXTapa for students is also Leal's theme nights, such as Zoot Suit, Burlesque, Alice in Wonderland, or 70's Soul Train, where a single mass email by Leal announcing the night's theme will bring all ages ready to dance in costume.
Dancing students from PCC's Candela Salsa Club frequently come to IXTapa on Tuesday nights to brush up on their dance skills and socialize with club members.
"With the Candela group, I met quite a few, and one of my teachers is a former originating member, Francisco Bugarin," said Leal "And he still keeps in touch [with Candela members.]"
PCC student, dancer, and Candela member Chris Abril spoke after performing and practicing on a hot afternoon in the PCC Quad.
"There's always several members who go," he said. "Like 13, 14 of us. We like to frequent the [IXTapa] because it's so close."
The students often practice and perform in the quad to exhibit what they've learned, gain confidence, and encourage curious students to inquire.
"We're all about building confidence in students by teaching them how to dance, teaching them how to lead, and being respectful towards their partner in a club environment," said Abril. "The beginning weeks are always really relaxed. We teach basic steps, so there's nothing to be intimidated about. I was scared at first, but once I started dancing, I really loved it and had a great time. Once I learned how to lead, I gained confidence. It was great for me and my social life."
Leal said that a recent challenge was being asked by a PCC Spanish instructor, Jennifer Garson to teach dance for her Spanish language students. The challenge was that he was asked to teach the class in Spanish."
"I'm Mexican. But I can't speak that well in Spanish," he said. "But I said 'I'll give it a shot' and she brought her students from PCC. And I taught the class in Spanish—taught them how to dance Salsa—and it was fun. They took the class, they hung out, and danced all night!"
Overall, Leal has no regrets on his choice to dance, teach dance, and make dance his business and his life.
"I took a risk, and said, 'You know what, I worked so hard at this—like I think I have a Ph.D. in Salsa, because I practiced so much!," Leal said. "So I said, 'You know what, what have I got to lose?'"