Hidden in the Center for the Arts on the third floor, a secluded hallway leads to two heavy wooden doors. On it a sign reads: "Studio entrance is restricted to students enrolled in drawing classes only."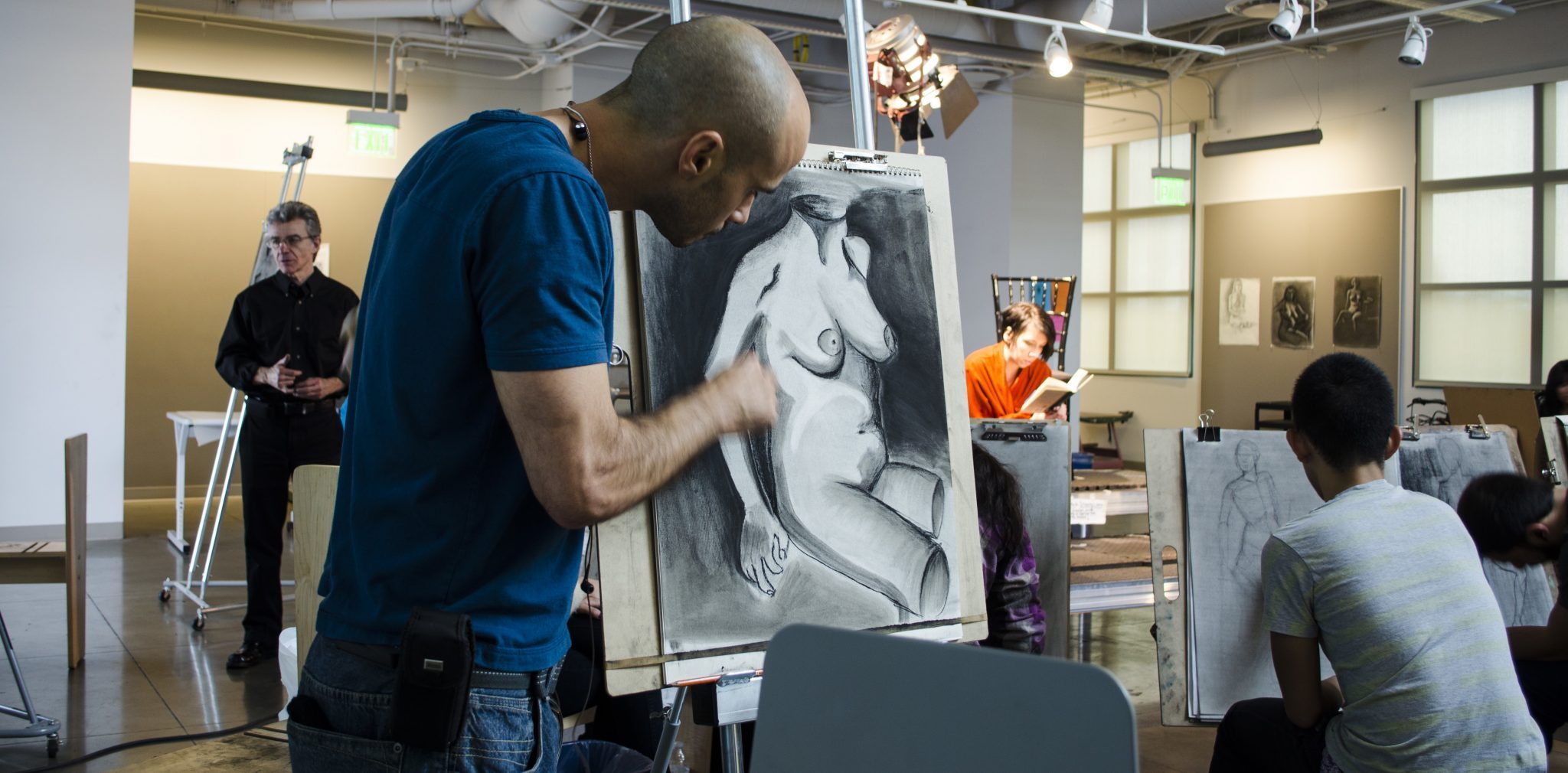 A student diligently works on a sketch of a nude model in the life drawing course.
I put my hand over my eyes as the doors opened to a long hallway with walls covered in paintings and drawings of nude men and women holding various poses. This is the artwork of students in the Life Drawing courses where the human form in all its naked glory is something to be celebrated.
Inside a full classroom of students sat behind their easels as they diligently drew a depiction of the model sitting with one arm over the back of her black wooden chair, her breasts fully exposed and her legs crossed in a relaxed manner.
"Still [nude] art is a celebration of vulnerability," the model said during a break from her pose. "It wasn't just a cheap trick that is seen in a bunch of movies. It's more a beautiful and refreshing form of media with out the Photoshop."
The centuries old art form has had some challenges in the last decade with the rise in technology, especially camera phones, according to Joseph Futtner, a dean in the school of visual, media and performing arts.
"There was a concern that privacy laws were being violated," Futtner said. "There is a certain potential in using technology to be voyeuristic if not outright invasive."
The model, who did not wish to be identified to maintain her privacy, described a few instances when students in a college life drawing class took pictures of her posing without asking for permission.
"The only full on tooth and nail fight I was in was over a camera phone," she said. "[The student] ended up putting pictures of me on Twitter. It was very uncomfortable."
But luckily, she hasn't had any problems at PCC.
Illustration student Andrew Malaby described the life drawing class as helpful for being objective when seeing nudity.
"It's really a great learning experience," he said. "It's different to learn the human form especially with a nude model. It's how you learn best."
Jim Morphesis, a life-drawing instructor, insisted that even in this camera phone social media endemic era, his students have respected the model and the art form by agreeing to keep their technology out of the classroom.
"Now everyone is used to having a cell phone," he said. "But it hasn't been a problem in my classes thankfully."
It's true, many of the students in the class were only working with some charcoal and canvas instead of the internet and iphoto.
Futtner described the class as an opportunity for students to develop their skills through a historic art medium.
"It gives students the necessary skill development of their work from more abstract ideas to the realistic form of the human anatomy," he said.
Illustration major John Tommy, who wishes to go to an art university, agreed that life drawing is giving him the skills to draw proportionately.
"It's a good practice. To draw from real life as much as possible is valuable," he said. "It's better to draw something based in reality because it keeps you grounded to it."
The model was glad to be able to help the students better understand the human form in a time when the world is over sexualizing nearly everything.
"It is really lovely," she said. "You feel very comfortable to be really seen and not sexualized."