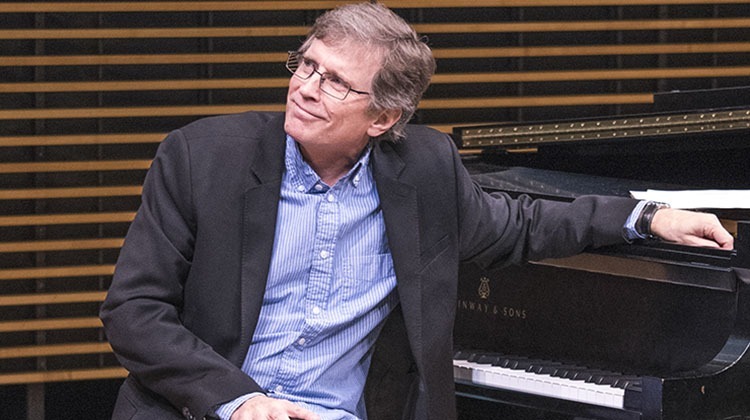 Friday night's joint Lancer concert band and chamber singers concert marked the end of this year's Pamela L. Girard guest artist/masterclass series.
Internationally known composer and USC professor Frank Ticheli, the artist in residence, worked with PCC music students over the course of three days, from rehearsing his famous pieces to evaluating students' original compositions.
"What I [liked] about this residency is that it was very comprehensive, I got to work with a whole wide variety of students," said Ticheli. "I loved … being able to work with both the band and the choir, it was nice to be able to do both, and of course, then doing a discussion with the students and working with the composers."
At the concert, held in Sexson Auditorium, the concert band and chamber singers performed a sliver of Ticheli's extensive works, such as "Fortress," one of his first compositions for concert band, "Columbine High School Alma Mater," written in response to the Columbine massacre for the then alma mater-less school, and the explosively energetic "Vesuvius."
The one exception to the otherwise exclusively Ticheli-based concert was Leonard Mark Lewis' "Short Stories," a first prize winner in the Frank Ticheli Composition Contest for the 2011-2012 cycle.
"It's hard to say, [to] judge how much improvement [the band] made, we had great moments is the way I think of it, not that we were here and now we're there," Ticheli said while motioning his hands. "All the way through the week there were moments, magical moments, that we had together. And then we had moments where we worked hard and struggled, and then moments that we didn't even expect to be just magical. That's what I love about working with people."
However modest Ticheli was about the band's improvements, longtime fan and director of bands Kyle Luck saw noticeable changes in his students' abilities.
"He's really elevated the band, he made them play better than they knew that they could. It was very inspiring, but the whole master class series, everything he's done here has just been remarkable. It couldn't have gone better," Luck said. "This is the first time I've got a chance to actually meet Frank Ticheli, but I've been a fan of his, played his music for years and years … I don't recall a concert where I haven't programmed one of his works. It's sort of become, in my mind, a requirement."
After the final piece of the night, students and audience members alike waited in line for a chance to meet Ticheli, take pictures with him and have their sheet music or program autographed.
During Thursday's composition masterclass at the Westerbeck Recital Hall, four original student compositions were performed for Ticheli. He offered his feedback on what they did well and what changes can be made to take their pieces to the next level.
Among the student composers was David Garcia Saldana, who wrote and performed "Chimes 1," a percussive piece for glass harmonium—a set of glasses and a bowl filled with varying amounts of water which produce different pitches when struck by mallets.
The inspiration for the piece comes from Garcia Saldana's interest in tuning and intonation, which he interacts with regularly as part of the choirs on campus. He looked at W. A. Mathieu's "Harmonic Experience," bought wine glasses from the dollar store and began experimenting.
"I designed this scale so it wasn't like a marimba or a piano going from high to low," he explained about his setup. "I designed it around patterns, so that a phrase that might be extremely difficult on one of those instruments would be extremely easy for me to play on my glasses."
As with any other experiment, there were some issues that posed a threat to positive repeated outcomes; in this case, the amount of water to use. In an effort to avoid using an enormous amount of water, Garcia Saldana decided to cut out pitches from his scale entirely. He removed some on the lower end and other high pitches that used nearly no water at all.
"I loaded a sound file of my scale on my phone and went to the dollar store with my homemade drumming stick and banged on every cup to find the perfect one," he said. "People definitely stared. I actually went through two different dollar stores on one day looking for a specific note!"
After performing his piece for Ticheli, and subsequently receiving feedback from him, Garcia Saldana playfully asked Ticheli if he would like to learn a phrase or two. Though he politely declined, Ticheli's thoughtful pointers and suggestions gave Garcia Saldana a sense of validation, which he feels is the right guidance for improving his compositional skills.