PCC's theater department christened its new Black Box Theater in the Center for the Arts building this weekend with its inaugural production of Stephen Sondheim and George Furth's "Company."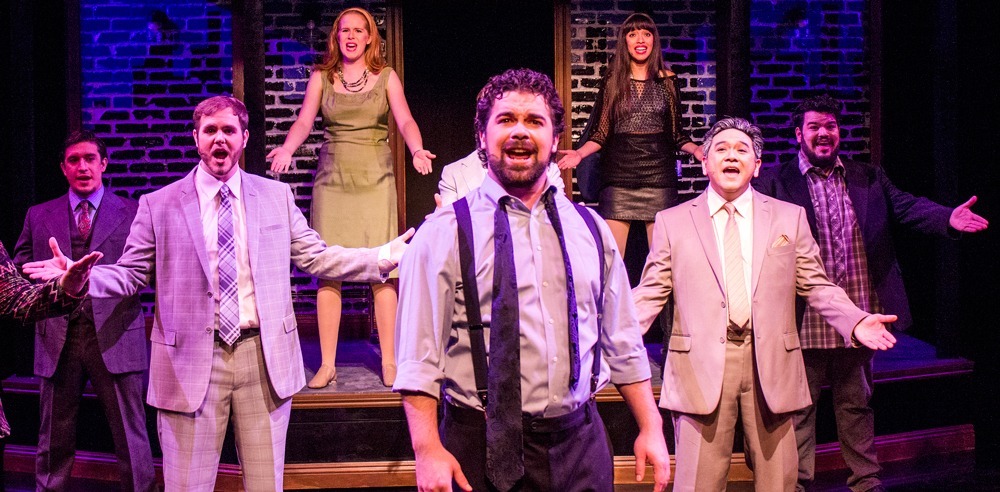 'Company' centers around the character Bobby and his friendships with five sets of couples and three girlfriends, exploring the conflicts between his desire to maintain his single status and his admiration for the security and comfort within the couples' relationships.
The scene is set with a minimalistic New York skyline imprinted on a wall of brick on the small and centered double-decker stage, while the orchestra, perched atop and visible through enclosing banisters, begins the Overture.
'Company' opens in silence, as Bobby (Oscar Gubelman) is greeted in surprise for his 35th birthday party, which moves forward a series of vignettes and musical numbers that outline his unique friendships with each couple, along with the occasional date or odd tryst with the girlfriend of the moment.
Joanne's (Keri Seymour) honest and sarcastic "The Little Things We Do Together", moves the couples through a number which showcases the dynamics in each relationship. In a slightly-awkward but comical physical display, Sarah (Faith Carrion) lets loose her recently learned Karate "chops" on her husband, Harry (Raymond Barcelo), which signify the force of nature uniquely present in their marriage.
The bittersweet number, "Sorry Grateful", features Harry (Raymond Barcelo) and the other husbands and men school us on the intricacies and contradictions in both the longing of lost freedoms and the desire for security and comfort within a committed relationship. A funny, lighthearted moment comes when Jenny, David and Bobby get stoned and longing and desires are revealed.
"You Could Drive A Person Crazy," which features the three girls that Bobby dates—April, Marta and Kathy—exhibits the lovely voices of Kira Alemania, Ariana Raygoza, and Caitlin York and is reminiscent of the 1940's Andrew Sisters.
The ensemble backed "Marry Me A Little" features an amazing performance by Aria Curzon, whose sweet but manic and neurotic Amy delivers a machine gun quick, perfect staccato performance.
"Ladies Who Lunch" is another signature Sondheim piece that includes a moving and powerfully commanding performance by Seymour, whose plight of the "woman of a certain age" prompts Bobby into an epiphany with her actions yet brings out the truth of her husband's enduring and sincere love for her.
"Being Alive," Bobby's moody, powerful final piece featured a moving Gubelman as his over-all feelings culminate to a decision that is left to mystery.
Although occasionally dotted with an errant off-key note or upstaging prop, 'Company' still sports a solid, vocally strong cast that takes their audience with them on a romp that shows us what it means to be in good company.